PORK AND BROCCOLI PHYLLO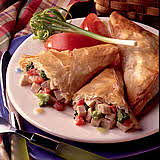 Serves 6
Ingredients
• 1 pound roasted boneless pork loin, cut into 1/2-inch cubes
• 1 12-oz. bag frozen broccoli florets, thawed
• 1½ cups chicken broth
• 1/2 cup diced onion
• 1/2 cup diced red bell pepper
• 3 tablespoons Dijon-style mustard
• 1/8 teaspoon white pepper
• 1½ tablespoons cornstarch, dissolved in 2 tablespoons water
• 6 tablespoons dry bread crumbs
• 8 sheets phyllo dough, thawed
• Nonstick vegetable baking spray

Cooking Directions
Preheat oven to 375 degrees F. Place pork and broccoli in a medium-size mixing bowl, set aside. In small saucepan, bring broth to a boil; lower heat to a simmer, add onion and bell pepper and simmer 10 minutes. Stir in mustard, pepper and cornstarch mixture, bring to a boil, stirring. Remove from heat and mix with pork and broccoli; set aside.

Spray a 2-quart, 11 x 7-inch baking dish with nonstick spray; line with one sheet of phyllo and sprinkle with one tablespoon bread crumbs. Repeat this 3 times; and fill with meat mixture. Cover the meat with phyllo, layering the same way on top as the bottom of the dish. (To clarify, this would be 4 sheets of phyllo dough and 3 tablespoons of bread crumbs beneath and on top of the meat mixture.) Tuck any overlapping phyllo dough gently down the inner sides of the baking dish. Bake until phyllo is brown and filling hot, about 25 minutes. Cut into squares to serve.
Note: If desired, use sheets of phyllo to create individual triangles. Omit bread crumbs.
Serving Suggestions
Make sure not to let the phyllo dough dry out while working with it. These can be cut into appetizer size. Or serve with a fruit salad for a light midday meal.

Nutrition Facts
Calories 320 calories; Protein 27 grams; Fat 10 grams; Sodium 697 milligrams; Cholesterol 61 grams; Saturated Fat 3 grams; Carbohydrates 27 grams; Fiber 3 grams

Recipe and photo courtesy of National Pork Board. For more information about The Other White Meat, visit TheOtherWhiteMeat.com