Mexican Egg Rolls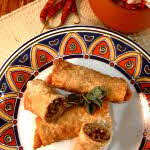 Tex-Mex flavors in an Oriental package.
Servings: 24 appetizers
Prep Time: 20 minutes
Cook Time: 20 minutes

Ingredients:
• 1 lb. ground round
• 1 medium onion, diced
• 2 cloves garlic, minced
• 1 Tbsp. chili powder
• 1/2 tsp. oregano
• 1 tsp. Tabasco sauce
• 24 egg roll skins
• 1 Tbsp. oil
• 1 medium green bell pepper, diced
• 1-2 fresh jalapenos, chopped
• 1/2 tsp. salt
• 1/2 tsp. cumin
• 1/2 lb. sharp cheddar cheese, grated
• 2 egg whites, beaten
• 1/2 cup water

Instructions:
In a heavy skillet begin to brown ground beef in 1 Tbsp. oil.

Add onion, green pepper, garlic, jalapeno(s), salt, chili powder, cumin and oregano.
Stir to combine and continue to stir until onion and pepper begin to soften; drain well.

Add water, cover and reduce heat. Continue to cook until dry, approximately 25 minutes.

Remove from heat and stir in grated cheese and Tabasco sauce.

Lay out all 24 egg roll skins flat with points facing you (like a diamond). Place 1 heaping Tbsp. of meat and cheese mixture in center of each skin.

Fold bottom point of skin up to cover meat mixture. Fold left and right points into the center. Lastly, fold top point down to form a roll. Brush on beaten egg whites to seal.

Heat oil in deep fryer to 350° F. Cook rolls a few at a time in the fryer until brown (approximately 1 minute).

Drain on paper towels.
Suggestions:
Can be served with salsa or a mixture of salsa and sour cream as a dipping sauce.

Recipe courtesy of the Texas Beef Council