PECAN-CRUSTED PORK TENDERLOIN PINWHEELS WITH CAROLINA MUSTARD SAUCE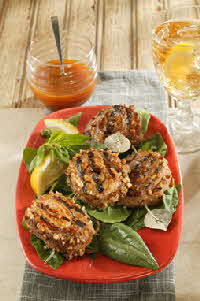 Serves 6.
Ingredients
1 1-pound whole pork tenderloin
6 slices thin sliced bacon

Carolina Mustard Sauce
3/4 cup prepared mustard
1/2 cup honey
1/4 cup cider vinegar
2 tablespoons catsup
1 tablespoon brown sugar
2 teaspoons Worcestershire sauce
1 teaspoon bottled hot pepper sauce
1 cup finely chopped pecans
1 teaspoon salt
1/2 teaspoon ground black pepper

Cooking Directions
Cut pork lengthwise into six 1/4-inch slices. Separate slices; place on cutting board (slices should be the size and shape of the bacon). Place a slice of bacon on each pork slice. Starting at one end, roll up into a spiral. Secure with 2 wooden toothpicks.

For Carolina Mustard Sauce, combine mustard, honey, vinegar, catsup, brown sugar, Worcestershire sauce and hot pepper sauce in medium bowl. Reserve 1 cup of the sauce until ready to serve. Brush remaining sauce over pork. Combine pecans, salt and pepper in small bowl.

Cut each pork spiral in half to form 2 pinwheels (12 total) and the secure ends with water-soaked wooden skewers or metal skewers. Coat each pork spiral with pecan mixture.

Grill pinwheels on the rack of an uncovered grill directly over medium-high heat (375-400 degrees F.) until pork is slightly pink in center, 6-8 minutes on each side. To serve, drizzle reserved sauce over pinwheels.
Serving Suggestions
Chris Lilly from Big Bob Gibson Bar-B-Q created this tenderloin dish. Serve with Beet, Walnut and Blue Cheese Salad (side dish category) and baked beans. You can also use these medallions as part of an appetizer buffet.

Recipe by Chris Lilly for National Pork Board
Recipe and photo courtesy of National Pork Board.
For more information about The Other White Meat, visit TheOtherWhiteMeat.com