Nacho Beef Dip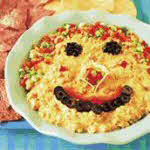 Great for kids of all ages.

Servings: Serves 8
Cook Time: 15 minutes

Ingredients:
• 1 lb. 95% lean ground beef
• 1 jar (15 to 15½ oz.) prepared cheese dip
• 1/2 cup prepared mild or medium chunky salsa
• 1/2 small red bell pepper
• 2 green onions (optional)
• 1/4 cup sliced ripe olives (optional)
• blue, yellow and/or white corn tortilla chips

Instructions:
Brown ground beef in large nonstick skillet over medium heat 8-10 minutes, or until beef is no longer pink, breaking up into small crumbles.

Remove beef from skillet with slotted spoon and place in 9-inch microwave-safe round baking dish.

Add cheese dip and salsa. Microwave, uncovered, on HIGH for 2 minutes

Using pot holders, stir beef mixture carefully.

Continue to microwave, uncovered, on HIGH 1 to 4 minutes longer until heated through.

Meanwhile, cut bell pepper into 1/4-inch pieces.

Cut green onions crosswise into thin slices.

Using pot holders, remove pie plate from microwave.

Stir beef mixture carefully. Let stand 1 minute.

Sprinkle top of beef mixture with bell pepper, green onions and olives.

Serve with tortilla chips for dipping.

Recipe courtesy of the Texas Beef Council