NEW YEAR DUMPLING DELIGHT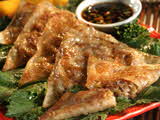 Prep Time (Min): 60
Cook Time (Min): 10
Makes 40 servings


Ingredients
• 1/2 lb. lean ground pork or beef
• 2 tablespoons MAGGI Seasoning Sauce
• 1 tablespoon lemon juice
• 1 tablespoon sesame oil
• 4 large Napa cabbage leaves
• 4 fresh shiitake or oyster mushrooms (stems removed and finely chopped)
• 1 cup finely chopped leeks (white parts only)
• 1 tablespoon peeled, finely chopped fresh ginger
• 1 tablespoon cooking rice wine or cooking sherry
• 1 tablespoon MAGGI TASTE OF ASIA Sweet Chili Sauce
• 1/4 teaspoon ground black or white pepper
• 40 round (gyoza) dumpling wrappers or square wonton wrappers
• 2 tablespoons canola oil, divided
• 1/2 cup water, divided
• Sweet Chili-Garlic Dipping Sauce (see recipe below)

Directions
COMBINE pork, seasoning sauce, lemon juice and sesame oil in large bowl; set aside.

REMOVE stems from cabbage leaves; discard stems. Finely chop cabbage leaves and mix into pork mixture. Stir mushrooms, leeks, ginger, rice wine, sweet chili sauce and pepper into pork mixture.

PLACE one dumpling wrapper on work surface. Lightly brush edges with cold water. Spoon about 1 1/2 teaspoons pork mixture into center of wrapper; fold wrapper in half and pinch edges to seal. Place on floured plate. Repeat with remaining wrappers and pork mixture. Cover wrappers and finished dumplings with moist paper towels to prevent drying.

COMBINE 1 tablespoon canola oil with 1/4 cup water in large, nonstick skillet over medium-high heat. Place half of the dumplings closely together in one layer in skillet; cover. Cook, without disturbing, for 5 to 6 minutes or until dumplings puff up and are slightly browned on the bottom. Repeat with remaining canola oil, remaining water and dumplings. Serve immediately with Sweet Chili-Garlic Dipping Sauce.

To make ahead: Make the filling ahead of time. It will keep in the refrigerator for 2 days or in the freezer for up to 2 weeks.

SWEET CHILI-GARLIC DIPPING SAUCE
Prep Time (Min): 10
Stand Time (Min): 30 standing
Makes 6 servings
Ingredients
• 1/4 cup MAGGI TASTE OF ASIA Cooking Soy Sauce
• 1/4 cup brewed green tea or rice vinegar
• 1 tablespoon MAGGI TASTE OF ASIA Sweet Chili Sauce
• 1 tablespoon MAGGI Seasoning Sauce
• 1 finely chopped green onion
• 2 cloves garlic, finely chopped
• 2 teaspoons sesame oil
Directions
Combine soy sauce, green tea, sweet chili sauce, seasoning sauce, green onion, garlic and oil in small bowl. Let sit for 30 minutes to allow flavors to blend.

Recipes compliments of cookbook author Ying Chang Compestine.
Maggi Taste of Asia Products