MULTI GRAIN PILAF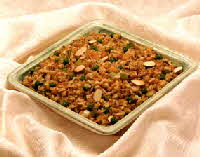 Servings: 4
Ingredients:
• 2 teaspoons vegetable oil
• 1/2 cup dry bulgur
• 1/4 cup dry white long-grain rice*
• 1/4 cup dry pearled barley
• 1 tablespoon dry chicken bouillon
• 2 cups hot water
• 1/4 cup coarsely grated carrots
• 1/4 cup chopped green onions
• 1/4 cup frozen peas
• 1/2 cup sliced almonds, natural (optional)

Directions:
Add oil to wok or skillet and heat on medium-high. Add grains and sauté 7 minutes, stirring occasionally.

Dissolve bouillon in hot water and stir into grains; add carrots and onions. Cover, reduce heat and simmer 25 to 30 minutes. Stir occasionally until liquid is absorbed and grains are tender. Add frozen peas 5 minutes before end of cooking time.
Remove from heat, let stand 5 minutes and fluff with fork. Garnish with almonds.

*Do not substitute with minute or brown rice.

Nutrition:
Each serving provides approximately: 232 calories, 7 g protein, 33 g carbohydrates, 7 g fiber, 9 g fat (1 g saturated), 0 mg cholesterol, 32 mcg folate, 1 mg iron, 301 mg sodium.

Recipe courtesy of the Wheat Foods Council