Waterfront Market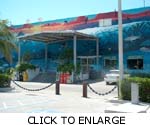 201 William Street
Key West Florida
Phone: (305) 296-0778
Hours: 7 a.m. to 6 p.m. 7 days a week.
Parking: Limited parking in lot.
Payment: Major credit cards accepted.
Price Range: Upper moderate to high.
Waterfront Market is in the process of being sold to a chain of natural foods stores. (2/2008)

Chef James Quick Notes:
I managed the Deli at Waterfront Market for a short time in 2002. In the interest of full disclosure, I must state that I had some personal issues with the owner when I left. But I still must highly recommend it as the best source for produce, seafood, specialty & gourmet products in Key West.

Waterfront Market is also a produce & seafood supplier to many of the restaurants in Key West, and therefore has the best selection of seafood, fresh fruits, vegetables and herbs. Lots of organic produce, the best selection of imported cheese in Key West, and many other organic, natural, gourmet and vegetarian items. They are not cheap, but they are high quality.