Mangoes Restaurant

(Key West, Caribbean)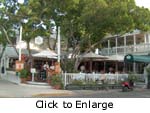 700 Duval St., Key West, Florida
Phone: (305) 292-4606
Website:
http://www.mangoeskeywest.com/
Hours: 11 a.m to 1 a.m.
Price Range: Moderate

REVIEW
There's a restaurant right on Duval Street in the heart of downtown Key West that actually sparkles at night - Mangoes. Well, they have strings of lights on the trees and foliage that surround the property. The host's desk is just few steps up from the main street and that rise gives you an opportunity for a bird's eye view of the annual evening parade of tourists and locals meandering about if you chose an outdoor table.

This eating spot has a reputation for being a friendly place to enjoy a meal and for having consistently high quality meal choices. I can attest to that and always look forward to an opportunity to stop by Mangoes. Its location also makes it a perfect spot to simply stop off for a drink at the outdoor bar if you're walking in town and just want to cool down. Parking in the heart of Key West is metered, so it is best to cab it in from your hotel or plan it in to your "Duval crawl."

On my last visit I was attending a work related meeting and the management was nice enough to let us use their indoor space ½ surrounded by French doors for a luncheon. Even inside you feel like you're a part of the outdoor garden bistro-like environment. I had a delicious garden salad, a deli-style sandwich on Cuban bread and a piece of key lime pie for dessert (I'm not a fan of the key lime favorite, but this was light and pleasant). I found out why the owner is famous for her training ability and reputation for high quality service. A number of local sous-chefs I know vie to work with her and glean what they can from her experience.

Prices are fair at Mangoes and this oasis in the heart of Old Town makes it an excellent choice for lunch or dinner. It is well known here making it popular with locals and return visitors, so it's always best to make reservations for dinner. Go, eat and enjoy the sites of the southernmost city from this lovely garden perch!
Doug Heyman in Key West for the Food Reference Website