Sandy's Cafe

(Cuban Cafe)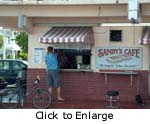 1026 White Street at M&M Laundry
Key West, Florida
Phone: (305) 295-0159

REVIEW: Sandy's Cafe
I realize that there are easily 100 restaurants you'd go to in Key West because of the ambiance or the reputation or the historic location or any number of reasons. Likewise, there are probably just as many eating spots you'd drive right past because they just don't stand out for any reason at all. I want to address your imaginative and adventurous side and ask you to stop at a place that may not impress you from the outside view in hopes that what's inside will provide the substance that will surprise you.

I do just that very thing from time to time and the surprise…Sandys Cafe. I love a good Cuban mix sandwich (Cuban bread with several meats inside, pickles and lettuce warmed through on a sandwich press) and the best way to get your hands on one is to try any number of family owned small sidewalk eating spots. They dot the island in the most unusual places. In the case of Sandy's it's actually attached to the corner of a Laundromat. Why would you even consider buying food prepared in a tiny kitchen whose service window faces out towards a bank of washers and dryers? Curiosity was my culprit and boy was I glad I took the plunge.

Until now I had gone to numerous local family restaurants touting their Cuban food with emphasis on the Cuban mix specialty and they were okay, but this place gave me the flavor and fresh ingredients I was looking for. Just add a café con leche and you're set. Every one of these establishments has its regulars who are either from the neighborhood or friends of the family and they hang out, but don't be intimidated by the clientele. Just look at the list of menu items posted on the board over the service window and be willing to try something with a name you don't understand. It may put a smile on your face. Look over the other coffee selections, desserts, breakfast items and Cuban specialties at Sandy's Café at the laundry on White St. and get yourself a local's experience.
Doug Heyman for the Food Reference website