PT'S Late Night Bar & Grill




(Homestyle cooking)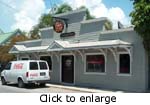 920 Caroline Street
Key West, Florida
Phone: (305) 296-4245
Hours: Lunch and Dinner.
Dinner served until 4 a.m.
Parking: Street parking.
Payment: Major credit cards accepted.
Price Range: Low to Moderate
As of September 2007 PT's is closed and for sale.

REVIEW
I'm sure you've heard the rumor that there's some serious drinking going on in this town and to accommodate the overwhelming number of participants our bars are open till 4:30 am. What we don't have are a lot of places to eat till that hour, but fear not because there's P.T.s Late Night just across from the old seaport just a few blocks from downtown.
PT's is a sports bar with a pool table and lots of T.V.'s in an unusually large space for our island. You can go to one like it in your hometown, but to many of us this is our hometown and we need our own so you'll see mostly locals at the bar and in the booths. It's got a solid and lengthy menu of burgers and steaks, but you can get decent home style meat loaf too, so if you're hungry in the wee hours or any time really then get satisfied right here.
If I were to highlight one particular favorite I must chose the prime rib sandwich for no other reason than it just satisfies me. They don't scrimp on the meat, they prepare it the way you like it and the roll is dense so it can handle the contents. Don't you hate it when you get a full-bodied sandwich with bread that can't do its job to the last bite?
This eating spot is located close to a major restaurant hub on the island where at normal eating hours it must challenge high end, mid and basic range competitors, but it does quite well. After 10 pm it has, for all intent and purposes, no competition. Space for car parking is very limited to just a few spots by the building and otherwise you pay the multi-level lot next door. You'll get solid service from friendly staff in a timely fashion.
You KNOW how it is. You just get hungry at all hours of the day and night and you MUST be satisfied. You could order in, but even the pizza places close at midnight and a drive thru just won't cut it. I'm pretty sure P.T.'s Late Night will work for you.
Doug Heyman for the Food Reference website
Chef James Quick Notes:
PT's is truly a local institution. Frequently voted 'Best Local's Spot' and 'Best Lunch in Key West'. This is one of the last truly 'locals' hangout left in Key West. A long bar, tables in the dining room, and tables & booths in the back room near the pool tables. If you are looking for some traditional American home cooking, this is it. Country Fried Steak, Meatloaf, Yankee Pot Roast, Turkey Pot Pie - all are on the menu.
In my younger days, you could find me here 3 or 4 nights a week, eating, drinking and shooting pool. You can still find many local restaurant and bar workers here almost every night. A great place with lots of atmosphere, across from where the old shrimp boat docks were located.
visitor review 7/15/04
I want to offer a restaurant review for P.T.'s Late Night.
I have been to Key West 7 times, and I never write restaurant reviews, but P.T.'s Late Night is a must-eat kind of place. I ordered the chicken chimichanga special reluctantly because I like chimichangas but chicken is questionable. I can take it or leave it, but I prefer beef. Those were the best chimichangas I have ever eaten. People who can make me say that chicken is excellent, not just tolerable, have cooked an outstanding meal. They were so tasty that the chicken didn't bother me. They were well seasoned, and the sauce poured on them was an adequate but not overwhelming. The serving size was impressive. I left some of it on the place because I was stuffed.
Also, there's variety: meatloaf and mashed potatoes to conch-fritters. Not your typical touristy sandwich and french fries place. Home-cooking and homey atmosphere away from home.
Allison Conn