Key West Diner

(Comfort food)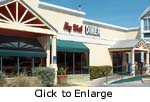 Overseas Market Plaza
2811 N. Roosevelt Blvd, Key West, Florida
Phone:
Parking: Free parking

CLOSED

REVIEW
Every town has its home cooking, cozy, friendly service all you can eat food bar kind of place with the word diner at the end of its name. Key West is no exception. I wish it weren't in a mall environment, but it still fills all the expectations a hometown eatery should have with certain specialties unique to the island like conch chowder for instance.

The restaurant had some management issues recently that ended up closing the place for a while, but it's back in full force right now and recent renovations have given it a cute Key West look inside. Each aisle of the Key West Diner is defined by a street sign designating it as a well-known street on the island and the pastel coloring of the ceiling, walls and booths give the place a warm feel.

The centerpiece of the eatery is the very large island that houses the all you can eat food bar. If it's breakfast there isn't an item that meal conjures up in your head that isn't represented. On the lunch/dinner side you will have salads, soups, fish, beef and desserts. This is a diner and the food is comforting and abundant in quantity, but it's not high end dining, and for what is served I find the prices a bit high. I still go there when I want to be in my hometown diner and enjoy good conversation with a friend.

I must also say that I haven't had a meal there without a friendly face providing my service. Everyone smiles and they can't do enough for you. If you're a visitor to Key West they have been known to act as concierge, tour guide and food critic re: (other local restaurants). If they don't know about it then the locals eating in the booth next to you will provide the info.

We all need comfort food even when we're away from home as a tourist. Since the tourism business is the main employer in town the service industry is composed of transplants to Key West who may want a piece of home as well. Many of us remember eating at the Five and Dime counter when we were kids and maybe at the small town family owned diner down the street. The Key West diner plays that roll for all of us!
Doug Heyman for the Food Reference Website