Kelly's Caribbean Bar, Grill & Brewery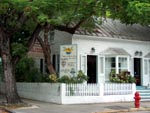 301 Whitehead Street
Key West, Florida
Phone: (305) 293-8484
Website:
http://www.kellyskeywest.com/

Chef James Quick Info:
Kellys is the restaurant of movie star Kelly McGillis and her husband Fred Tillman. Great atmosphere, and a good reputation, and its own micro-brewery.

Kelly's is housed in several buildings, the main building was originally located on the site where the Pier House Resort is now located. The building became the original offices of the first international airline, Pan American Airways, in 1928. Kellys had previously housed the offices of a Key West to Havana mail carrier, and later was the Old Island Trading Post. The ceiling fans are the propellors of an old seaplane.