Mangia Mangia

(Pasta Cafe)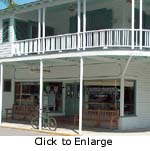 900 Southard Street, Key West, Florida
Phone: (305) 294-2469
Website: www.mangia-mangia.com/
Hours: Dinner 5:30 - 10 p.m. nightly.
Price Range: Low - Low Moderate

Chef James Quick Info:
Mangia Mangia makes all of the pasta they serve. They have received many awards, including several Wine Spectator Awards of Excellence. One of the best values in Key West. It has sustained an excellent reputation for many years.

Indoor and outdoor seating. The kind of place you dine several times a week during your visit to Key West.

The restaurant is in a corner building with a peaked roof and wrap around balcony and is beautifully restored. In the 1930s it was Johnny Mack's Ice Cream Parlor.

Visitor's notes:
James, We just got back from Key West and wanted to thank you again for your suggestions. We tried several of them. Loved the Key Lime Pie at Pepe's, as well as the enchilado marisco at El Siboney. Mangia Mangia and Turtle Kralls were also quite good.
Jeffree