Shrimp Shack

(Seafood, Burgers, Sandwiches)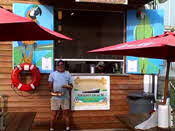 6840 Front Street Stock Island
Key West, Florida 33040
Phone: (305) 296-6022

CLOSED
Hours: Lunch & Dinner - 11am-10pm
Credit Cards: Visa, Mastercard
Reservations: Not Required
Price Range: Moderate
Dress Code: Very Casual
Motto: "Eat with the Fleet"
Accessibility Offered: Handicap
Smoking: Outdoor Seating (Smoking Permitted)
(click photos to enlarge)
Located on the Scenic Safe Harbor Seaport and have one of the only Historic active shrimp docks where you can view the boats bringing in your lunch or dinner.

Wednesday night all you can eat Maui Fish Fry for $12.99 with a live band.
Sunday night Authentic Louisiana Shrimp Boil (also Ribs).

Child and Pet Friendly, offering a Free Kids Menu for children under 10 and Frosty Paws ice Cream for patrons who want to bring along their pooch.