Moe's Restaurant




(Key West Casual, French Bistro)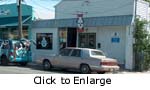 1116 White Street
Key West, Florida
Phone: (305) 296-8955
Hours: Dinner Nightly except Mondays
(call for closed day confirmation)
Reservations: Call for wait time
Accessibility: Accessible, one-story.
Parking: Ample street parking and other lots after their business hours.
Payment: Cash Only
RATING: 10+ (on a scale of 1-10, wherein ten is the ultimate.)
Ambiance: Key West casual/ French Bistro
Service: Always a total hoot! Professional, wacky, timely, home-like.

REVIEW
There is so very much to say about Moes but the first and foremost is that the cuisine is outrageous. The word provincial is apropos but in this country---demeaning. The food on offer there is FAR MORE than what one might expect from looking through its storefront windows. The place is neat, clean and unassuming---the food, however, is absolutely not! Actually it assumes that the diner wants to experience a feast for the tongue and the heart (spirit). It does not seek to be "haute-cuisine" nor does it try to be "franks and beans". It achieves an astounding level of "orderability" and approachability as well. Bravo, Moe's!

The team of Moe and sister Reina is second to none in terms of the kitchen ballet that they perform nightly, except Mondays. Their timing is impeccable---the repartee in true Key West style. Moe is the host and sometimes waiter/busser/sommelier/
expediter…do-it-all kind of guy! All, that is, except handle the line. That is the goddess-sister's domain. And she does most adroitly and assuredly reign. She is the master of the sauce and, truly, of everything that she touches. Her years of loving and learned food preparation is a gift and a talent for which she MUST have had to work EXTREMELY hard.

Plain and simple, go to Moe's. They are the insider's secret for anyone who has been here for a good, long while. I remember the first time I went in the early 90's and it is JUST as phenomenal in 2003 as it was back then.

Featuring a series of nightly specials, the menu is pleasing, interesting and reasonable. He has become known for his Garlic Butter, Pate Fois Gras and Escargot (The best in Garlic --- perhaps EVER---thanks 'Sis'!) I would be remiss if I failed to mention the regular but scheduled "Angelberry Cake". It is only available on certain nights and is completely worth the wait. Call ahead to find out which day it is.

There is always a line for Moe's special combination of gourmet food, wit, banter and loving abuse!!! He is truly one of the bright-spots in my life on this island and yet another reason that I love dining there regularly (or as often as I can!).

The wine list is more than pleasing for most diners. I really enjoyed the simple Louis Jadot Pouilly Fuisse. Small, warm (as in comfortable), offering a melange of cuisine that rivals the high-rent district plates that seem to abound. It ALWAYS feels like home and being with family and friends. Do not be surprised to see a good deal of the Key West glitterati and conoscenti there regularly. He has been there for years and, this writer hopes, will remain a Key West fixture---as he has deservedly become!

Remember, they DO NOT ACCEPT CREDIT CARDS.
A definite star in the culinary universe of Key West!!

Marc for FoodReference.com