Pepe's Cafe & Steak House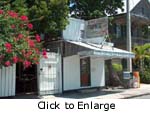 806 Caroline Street, Key West, Florida
Phone: (305) 294-7192
A Chef James Best of Key West Restaurant
Hours: Daily from 6:30am to 11pm.
Payment: Major credit cards.
Price Range: Moderate.

Chef James Quick Notes:
Reputation is very good to excellent.
Established in 1909, Pepe's claims to be the "oldest eating house in the Keys," Pepes was formerly located across from Sloppy Joe's, where Rick's Cafe is located today.
REVIEW
There are only a handful of eateries in Key West that actually make you feel like you're, well, somewhere else. You know, other then anywhere else. You see a white shack on the street with signage saying, "breakfast 75 cents" with a run down looking whitewashed storefront and you wonder if it's okay to even walk in, but you do and you're glad you made that decision. You've entered a genuine Key West experience.

Once you decide whether to eat inside in one of the booths with dark pew like seating and old photographs on the wall or outside in the garden at one of the tree covered tables you begin to actually get excited about reading the menu. Whether it's a bountiful hearty breakfast, a classic lunch, a delectable choice of dinner meals or just a drink at the bar (made with fresh squeezed juices) you cannot be disappointed. Every member of the staff is kind, friendly and genuinely ready to make sure you get everything you want and need.

Once you open the menu it becomes evident that there's something unique about the place. From local fish Florentine to steak smothered in pork chops to the weekly Thursday night traditional Thanksgiving dinner it just tickles you to read through the list of consumables. Every meal is flavorful and there's no way you'll go away hungry or lacking a "doggie bag" (hope your hotel provides a refrigerator in the rooms).

You'll walk away from this restaurant with the strings of lights overhead indelibly etched in your minds eye, local stories told by Key Wester's at the bar giving you a silent chuckle and anticipation for the next time you can go back to do it all again. Many fellow residents will be unhappy I shared this with you because we like our secret hideaways and protect them vehemently, but it wouldn't be fair to keep this one all to ourselves.
Doug Heyman in Key West for the Food Reference Website

visitor comment
Just got back from Key West and wanted to thank you again for your suggestions. We tried several of them. Loved the Key Lime Pie at Pepe's, as well as the enchilado marisco at El Siboney. Mangia Mangia and Turtle Kralls were also quite good. We opted not to go to Blue Heaven because we learned two different sets of guests at our B&B got food poisoning there. We didn't want to take a chance and spoil our vacation. We would have liked to visit Annie's and Bagatelle but simply ran out of time. Hopefully we can try them the next time we visit. Jeffree