Sands Beach Club Bar & Restaurant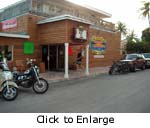 1420 Simonton St. on the Atlantic
Key West, Florida
Phone: (305) 294-2000
Website:
http://www.sandsbeachclub.com/
JUNE 2005 CLOSED - the property has been sold for redevelopment

REVIEW
I don't want to say that some locations are "jinxed," but the restaurant known as the Sands Beach Club is sitting on a spot that has had numerous eating and drinking establishments on it that have failed. I don't want to automatically count this eating spot out, but it hasn't made a splash in town since it opened about 9 months ago. It has a location right on the ocean and all the sea faring décor to go with its geography, but after having eaten there about 5 times I can't say much for the food.

If you're going to make it in Key West you must get the local following first so the word gets out to the visitors and tourists. You can have the ocean at your doorstep, but locals are used to that. You can serve all the well-known drinks, but this is a major alcohol-consuming town so locals are used to that as well. It has to be the food that hits you and holds your attention and I have been there enough now to honestly say the Sands hasn't even taken command of the hamburger yet.

You will also notice that your server has; count them, three assistants to get the job done. They are known in the business as expediters and though the word by definition means you should get speedy service; if not managed correctly they can step on each other's toes. It requires communication so there is no duplication of effort making the original intent moot. One takes the order, one brings the drinks, one brings the food and another gives you your check. Who do you tip? Who do you ask if you need an extra napkin? The servers are very pleasant and put out the effort, but if it confuses me as the eater it has to confuse the staff.

I don't mean to add more layers to the negative side, but though it has air-conditioning the doors are opened ¾ of the way around the building so in the typically hot Key West environment it's too uncomfortable to eat. It had to be said.

This is not the end all be all review of the Sands. It has a good location, good staff and nice décor. It just needs some rethinking by its management and a good chef who can reboot the kitchen. They are key issues I know, but not beyond the ability to fix. I'll keep tabs on the menu and update this evaluation should improvements come to pass.
Doug Heyman for the Food Reference Website