SHOR American Seafood Grill




(Seafood, Steaks, etc) at the Hyatt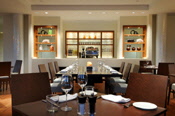 601 Front Street
Key West, Florida
Phone: (305) 809-4000
Website: keywest.hyatt.com
Hours:
Breakfast: 7:00 a.m. to 11:00 a.m., daily
Lunch: 11:00 a.m. to 3:00 p.m., daily
Dinner: 6:00 p.m. to 10:00 p.m., daily
Price Range: High
Dress Code: Key West Casual
Reservations: Recommended
Parking: Walk or take a cab.
Great view of the Gulf of Mexico and Key West sunsets.
Formerly known as Nicola Seafood Restaurant.
The following is a previous review of the Former Nicola's Restaurant at the same location at the Hyatt.
REVIEW
I don't make a habit of eating at the restaurants associated with the larger resorts on the island of Key West, but one in particular is so inviting that I have gone a few times. When you walk past the front office of the Hyatt on Front Street in Key West you notice right away that the property wants you to be there with a frog pond, fishpond and comfortable poolside environment.

When you seek out Nicola's, the resort restaurant, you walk past the pool through French doors and then ushered into a space where any seat gives you a fantastic view of the Gulf of Mexico. I always prefer to sit outside when the weather permits and this is a good spot to take that option. I live on an island so I can see the water and on a busy day you can enjoy sightings of every kind of vessel, Sunset Key and water sports activities.

Most recently my special friend and I did lunch. I had the grouper sandwich with a New Orleans style sauce and my friend enjoyed the chicken with pasta. It was an unseasonably cool day but our seats were in the sun and the warm food and good company made the afternoon special. Coffee was served while still brewing in a glass flask. The space is clean and well maintained and the service was very friendly and efficient though it took a little time getting drinks to the table.

I remember eating here with 10 of my friends for a New Year's Day brunch a while back and having had a very nice time. They accommodated our large group on one of the busiest times of the year and the display of food items was phenomenal. I am quite enamored with this eating spot and though a bit pricey as are most resort property restaurants it is worth the extra pennies to enjoy the good food, good service and beautiful view. Parking is stressful around town so plan this stop here during your afternoon or evening walk or cab it in. Nicola's is a pleasure.
Doug Heyman in Key West for the Food Reference Website