HORSERADISH CREAM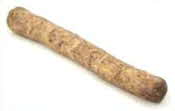 Jekka's Herb Cookbook
by Jekka McVicar

This is a deluxe version of horseradish sauce that goes so well with meat, smoked fish and cheese. It is especially good served with cold beef, smoked mackerel or an avocado and apple salad.
Makes 1/2 cup (125 ml)

INGREDIENTS
• 6-inch (15 cm) piece fresh horseradish (or use 1 tbsp/15 ml preserved horseradish in vinegar, drained, and omit the lemon juice)
• 1 tbsp (15 ml) unsalted butter
• 2 tbsp (30 ml) fresh bread crumbs
• 1 apple
• 2 tsp (10 ml) yogurt
• 1 tsp (5 ml) lemon juice
• Pinch of salt
• Pinch of sugar
• 1 tsp (5 ml) chopped fresh chervil, French tarragon and dill
• 4-5 tbsp (60-75 ml) whipping (35%) cream

DIRECTIONS
Wash, peel and grate the fresh horseradish.

Melt the butter in a frying pan and add the bread crumbs. Fry until golden brown, remove from the heat and add the grated horseradish. Grate the apple into the mixture. Add the yogurt, lemon juice, salt, sugar and chopped herbs. Set aside to cool, then chill in the fridge.

Just before serving, gently fold the cream into the mixture.