Garam Masala & Pepitas Flavor Pairing
Recipe below
Exotic, enticing and novel.When a robust collage of spices from northern India meets the vibrant kernels of pumpkin seeds from Latin America, these seemingly diverse flavors marry as a new, sensory-filled union. One of the greatest areas of culinary exploration lies in the pairing of flavors and ingredients from different cultures around the world to create avant-garde combinations.
Garam masala translates as "hot or warm spice blend," and is traditional in Indian, Bangladeshi and Pakistani cooking. This intoxicating mixture of black pepper, cardamom, cinnamon, coriander and cumin strikes a harmonious balance offering deep flavor and complex richness. Pepitas are valued as a healthy snack and are popular in many global cuisines including Latin American, African and Asian. Since ancient Aztec times, pepitas have been a staple of authentic Mexican cuisine. Toasting or roasting them intensifies their natural flavor and addictive crunch.

The numerous ethnic options for this pair range from tagines with lamb, chicken and dried fruits to a delicious Pepita-Crusted Halibut with Blood Orange Jicama Chutney. Explore the lure of this coupling in a curry pumpkin soup with pepitas and pumpkin seed oil or as a savory twist to a saffron panna cotta with garam masala syrup and pepita brittle.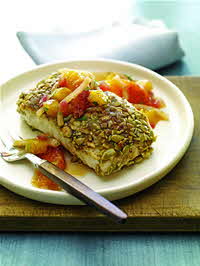 "Garam masala has a wonderful depth of flavor and pepitas add texture and nuttiness. This combination goes well with so many flavors, including pumpkin, lime, beets, root beer and beef."
Claudio Aprile, Chef/Owner | Colborne Lane, Toronto, Canada
RECIPE
PEPITA-CRUSTED HALIBUT WITH BLOOD ORANGE JICAMA CHUTNEY
Garam masala, an aromatic spice blend from India, seasons a pepita (pumpkin seed) crust for halibut. Fresh mango, jicama and blood orange make a refreshing complement to the crispy fish.
Prep Time: 20 minutes
Cook Time: 15 minutes
Makes 4 servings.

Ingredients
• 3 blood oranges or small seedless oranges
• 3 tablespoons olive oil, divided
• 1/2 cup match-stick jicama strips
• 1/3 cup cubed peeled mango
• 1/4 cup chopped red onion
• 1 tablespoon Champagne vinegar
• 1 tablespoon agave nectar or honey
• 2 1/4 teaspoons McCormick® Gourmet Collection™ Garam Masala, divided
• 1 tablespoon coarsely chopped fresh cilantro
• 1/2 cup unsalted pepitas (shelled pumpkin seeds or kernels), coarsely chopped
• 1/2 teaspoon McCormick® Gourmet Collection™ Sicilian Sea Salt
• 1 egg white, lightly beaten
• 4 halibut fillets (about 1-inch thick), skin removed (1 to 1 1/3 pounds)
Directions
1. Peel and section 2 of the oranges. Squeeze juice from remaining orange. Set aside.

2. Heat 1 tablespoon of the oil in large nonstick skillet on medium heat. Add jicama; cook and stir 3 minutes or until tender-crisp. Add mango, onion, 1/4 cup of the orange juice, vinegar, agave nectar and 1/4 teaspoon of the garam masala; cook and stir 1 minute or until sauce is slightly thickened and heated through. Remove from heat. Stir in orange sections and cilantro. Spoon chutney into bowl. Set aside.

3. Mix pepitas, remaining 2 teaspoons garam masala and sea salt in shallow dish. Brush fish with egg white. Coat both sides evenly with pepita mixture.

4. Heat remaining 2 tablespoons oil in large nonstick skillet on medium heat. Add fish; cook 3 to 4 minutes per side or until fish flakes easily with fork and crust is crisp and golden brown. Serve with Blood Orange Jicama Chutney.

Nutritional Information Per Serving: 469 Calories, Fat 25g, Protein 36g, Carbohydrates 25g, Cholesterol 37mg, Sodium 315mg, Fiber 5g