Tarragon & Beetroot Flavor Pairing
A whimsical take on vintage elegance. This hip combination of two timeless ingredients helps transform the humble beet into a playful show-stopper. The natural sweetness of beets – referred to as beetroot in most parts of the world – marries well with the licorice edge of tarragon, producing a sensory feast that is anything other than predictable or restrained.

Tarragon, with highly aromatic notes of anise and mint, is prized as an integral element of French cuisine. Its affinity for complementary flavors inspires exciting new combinations. Enter vibrantly colored beets, quickly following in the fashionable footsteps of the heirloom tomato. Chefs adore this economical root vegetable's color palette, ranging from traditional deep red to golden yellow, pink, white and even red-and-white candy-striped. Gone are the limitations of boiled, pickled and canned. This new crop of beets is being celebrated for their purity of flavor in raw or roasted forms – often enjoyed with bolder spices and herbs.

Sample the magic of this duo in Goat Cheese Beet "Ravioli" with Tarragon-Orange Sauce or try tarragon-marinated beet shish kabobs. Dig into a delicious roasted beet and fruit paté with tarragon sugar or enjoy thinly sliced beet carpaccio with tarragon-infused walnut oil.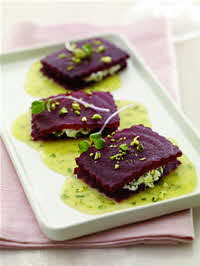 "I would turn this earthy and healthy combo into a beet and tuna tartare with tarragon, using hazelnut oil and pistachios as complementary flavors."
Mihoko Obunai, Executive Chef | Repast, Atlanta
RECIPE
GOAT CHEESE BEET "RAVIOLI" WITH TARRAGON-ORANGE SAUCE
This mock "ravioli" features a pistachio and tarragon-flecked goat cheese filling layered between roasted beet slices. A lightly sweetened tarragon orange sauce and more pistachios finish the dish.
Prep Time: 30 minutes
Cook Time: 1 hour
Makes 6 servings.

Ingredients
• 2 pounds beets
• 1 tablespoon butter
• 2 teaspoons flour
• 1 cup orange juice, divided
• 1/4 cup sugar
• 2 teaspoons lemon juice
• 1 1/2 teaspoons McCormick Gourmet Collection Tarragon Leaves, divided
• 6 ounces goat cheese (chévre)
• 1/2 cup chopped shelled pistachios, divided

Directions
1. Remove greens and bottom roots from beets. Wrap beets in foil. Bake in preheated 425°F oven 45 minutes to 1 hour or until tender when pierced with small knife. Cool until able to handle. Peel beets.

2. Meanwhile, melt butter in small saucepan on low heat. Add flour, whisking until well blended. Stir in 1/2 cup of the orange juice until smooth. Whisking constantly, bring to boil on medium heat. Remove from heat. Pour into small bowl. Whisk in remaining 1/2 cup orange juice. Stir in sugar, lemon juice and 1/2 teaspoon of the tarragon. Stir occasionally until sauce is completely cooled.

3. Mix goat cheese, 1/4 cup of the pistachios and remaining 1 teaspoon tarragon in small bowl until well blended.

4. Cut beets into thin slices (no more than 1/8-inch thick). Using cookie cutters, cut beet slices into decorative shapes, if desired. Spoon 1/2 to 1 teaspoon filling onto half of the beet slices. Cover each with a second beet slice to create "raviolis". To serve, spoon about 3 tablespoons Tarragon-Orange Sauce onto each serving plate. Arrange 3 to 4 "raviolis" in the sauce. Sprinkle with remaining 1/4 cup pistachios.

Nutritional Information Per Serving: 283 Calories, Fat 15g, Protein 10g, Carbohydrates 27g, Cholesterol 27mg, Sodium 278mg, Fiber 4g