More Deliciously Simple Ideas to Enjoy the Flavor Pairings
Toasted Sesame & Root Beer
For a flavorful twist on a classic dessert, prepare a yellow cake mix with root beer, instead of water, and add toasted sesame seed. Drizzle with a simple root beer reduction glaze.

Cayenne & Tart Cherry
Spice up spoon bread. Season corn meal mixture with cayenne, rosemary and dry sherry. Fold in Manchego cheese and dried tart cherries before baking.


Tarragon and Beetroot
Arrange slices of roasted beets and fennel, orange sections and red onion on a bed of field greens. Drizzle with a tarragon vinaigrette enhanced with pure vanilla.


Peppercorn Mélange and Sake
Marinate steaks in a blend of sake, miso, peppercorn mélange and sesame oil. Serve with a Sake Peppercorn Dipping Sauce, accented with honey and slices of green onion.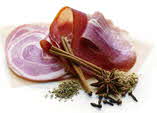 Chinese Five Spice and Artisan-cured Pork
Stir-fry green beans with Chinese five spice and slices of pancetta or prosciutto. Simply add garlic, sesame oil, sherry and crushed red pepper for a spicy departure from the standard side dish.

Dill and Avocado Oil
Refresh a classic shrimp scampi recipe with the addition of avocado oil and dill.



Rosemary and Fruit Preserves
For a new take on Black Forest Cake, fill dark chocolate cupcakes with blackberry preserves, rosemary and black pepper. Top with a rich chocolate ganache topping.

Garam Masala and Pepitas
Make an easy snack mix. Toss two cups pepitas, one cup almonds, two teaspoons garam masala, a sprinkle of sea salt and a drizzle of olive oil. Bake at 350°F until lightly browned, then add a handful of dried cranberries.

Mint and Quinoa
Create a healthy, flavorful side dish featuring red and pearl quinoa and mint. Apricots, dates and toasted slivered almonds add sweetness, color and a nutty crunch.
Smoked Paprika and Agave Nectar
Shake up a Smoky Margarita with one part tequila, two parts fresh lime juice, two parts agave nectar and one-eighth teaspoon smoked paprika. Serve in glasses rimmed with sea salt and smoked paprika.