Gourmet Banana, Cherry and Roasted Cinnamon Bread Pudding Recipe
McCormick Gourmet Roasted Spices
Dried cherries add a festive touch to this bread pudding. For a moist pudding, make sure the bread cubes are soaked with the milk mixture.
Prep Time: 15 minutes
Cook Time: 40 minutes
Makes 12 servings.
Ingredients
• 1/2 cup dried cherries
• 1 tablespoon rum
• 1 cup sugar
• 4 tsp McCormick Gourmet Collection Roasted Saigon Cinnamon
• 4 eggs
• 3 tsp McCormick Pure Vanilla Extract, divided
• 1/4 teaspoon salt
• 3 cups milk
• 7 cups challah, French or Italian bread cubes
• 2 ripe bananas, sliced
• 1 cup heavy cream

Directions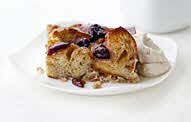 1. Preheat oven to 350°F. Mix cherries and rum in small bowl. Let stand 5 minutes. Mix sugar and cinnamon in small bowl. Reserve 1/4 cup plus 2 tablespoons of the sugar mixture. Mix eggs, remaining sugar mixture, 2 teaspoons of the vanilla and salt in large bowl with wire whisk until well blended. Stir in milk until well blended. Add bread cubes and bananas; toss to coat well. Pour into greased 13x9-inch baking dish. Sprinkle cherries evenly over top. Sprinkle with 2 tablespoons of the reserved sugar mixture.

2. Bake 35 to 40 minutes or until knife inserted in center comes out clean. Cool slightly on wire rack.

3. Meanwhile, beat cream, remaining 1/4 cup sugar mixture and 1 teaspoon vanilla in medium bowl with electric mixer just until stiff peaks form. Refrigerate until ready to serve. Serve warm bread pudding with whipped cream.

Nutrition Information Per Serving:
315 Calories, Fat 11g, Protein 8g, Carbohydrates 46g, Cholesterol 103mg, Sodium 288mg, Fiber 2g