Applewood Grilled Shrimp & Plum Salad with Cinnamon-Honey Dressing Recipes
Grilling Flavor Forcast:
Applewood & Cinnamon
Layer flavors onto grilled shrimp with Grill Mates® Applewood Rub and plum preserves. Perfect for outdoor entertaining, this salad features grilled plum slices, raspberries and applewood bacon in addition to the grilled shrimp.
Recipe Makes 6 servings.

Ingredients
Cinnamon Honey Dressing:
· ½ cup fresh lemon juice
· ¼ cup honey
· 1 tsp McCormick Gourmet Collection Sicilian Sea Salt
· ½ tsp McCormick Gourmet Collection Roasted Saigon Cinnamon
· 6 tablespoons olive oil

· 1/4 cup plum jelly
· 1 tablespoon water
· 1 tablespoon McCormick Grill Mates Applewood Rub
· 1 tsp grated lemon peel
· 1 pound extra large shrimp (16 to 20 count), peeled and deveined
· 1 tablespoon olive oil
· 2 plums, quartered
· 4 cups spring mix salad greens
· 6 slices applewood bacon, crisply cooked and crumbled
· ½ cup fresh raspberries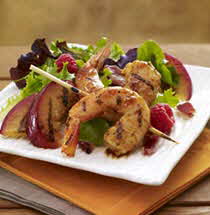 Directions
1. For the cinnamon honey dressing, mix lemon juice, honey, sea salt and roasted cinnamon in small bowl. Slowly whisk in oil. Set aside.

2. Mix plum jelly and water in small bowl. Mix Applewood Rub and lemon peel. Thread shrimp onto skewers. Brush with oil. Coat with Rub mixture.

3. Grill shrimp skewers over medium heat 4 to 5 minutes per side or just until shrimp turn pink, brushing occasionally with plum jelly mixture. Grill plums 1 to 2 minutes or until grill marks appear, turning frequently and brushing with 2 tablespoons of the Cinnamon Honey Dressing. Cut plums into slices.

4. To serve, divide salad greens among 6 plates. Top each with shrimp, plums, raspberries and bacon. Serve immediately with remaining Cinnamon Honey Dressing.

Nutritional Information Per Serving:
335 Calories, Fat 19g, Protein 15g, Carbohydrates 31g, Cholesterol 120mg, Sodium 701mg, Fiber 2g