FULLER FLAVORS OF ROASTING MADE EASY
McCormick Gourmet Collection Introduces New Roasted Spices
Recipes links Below
HUNT VALLEY, Md. (June 3, 2010)
When cooking enthusiasts look for flavor-boosting secrets, roasting spices rises to the top as one of the most accessible take-home techniques. With new McCormick Gourmet Collection roasted spices, it's easy to enjoy these richer aromas and more robust flavors – without the time and temperature guesswork involved when roasting spices.
The flavor experts at McCormick have made it simple for home cooks to skip that extra step with new McCormick Gourmet Collection roasted ground spices: cumin, cinnamon, ginger, and coriander.
"Today, people are looking for more complex, impactful flavors, like the ones they're experiencing in restaurants," said Kevan Vetter, Executive Chef at McCormick. "The technique of roasting spices brings out new aromas and layers of flavor that are remarkably different from unroasted varieties. The new McCormick Gourmet Collection Roasted line has a much fuller, rounder flavor."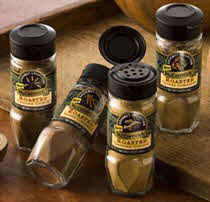 An essential technique in many global cuisines, the flavorful benefits of roasting are becoming more broadly appreciated by American cooks, thanks to the popularity of cooking shows, chef-inspired recipes and international dishes.

Experience full, roasted flavors without the fuss by trying these new ideas and recipes:
* Add Distinct Depth: Give dimension to Southwestern, Indian, and Moroccan dishes with Roasted Ground Cumin – one of the featured spices in the McCormick® Flavor Forecast™ 2010.
Enjoy its full, earthy notes.
RECIPE: Roasted Cumin-Crusted Grilled Steaks with Tomato Relish

* Enhance Sweetness: Similar to the taste of red-hot candies, roasting cinnamon brings out a pleasantly strong and sweet flavor in desserts. Roasted Saigon Cinnamon is also a great addition to mole recipes, spice rubs and dishes that do not require cooking, such as fresh fruit and yogurt.
RECIPE: Banana, Cherry and Roasted Cinnamon Bread Pudding
* Savor Warmth: Roasting ground ginger balances the spice's sharp notes for a warmer, rounder flavor. Highlighted in the on-trend flavor pairings in the McCormick Flavor Forecast 2010, Roasted Ground Ginger is incredibly versatile, and brings a mellow sweet heat to barbecue sauces, chutneys and marinades.
RECIPE: Roasted Ginger Vegetable Stir-Fry

* Awaken Aromatics: The spice's light, lemony notes are deeply intensified in Roasted Ground Coriander. Great in Indian and Middle Eastern recipes, roasted coriander is a flavorful addition to dishes like this RECIPE: Roasted Coriander, Chickpea and Lime Rice

About McCormick
With an extensive network of researchers, trend experts, chefs, home economists, food technologists, and sensory analysts, McCormick & Company, Inc. keeps its finger on the pulse of flavor. McCormick was founded in 1889 in Baltimore, Maryland. Today it is a global leader in the sale of spices, herbs and seasonings. McCormick sources high quality ingredients from far-reaching destinations to bring a world of flavors to consumers. Visit www.mccormickgourmet.com for more information about McCormick Gourmet Collection, as well as more delicious usage ideas and recipes.