Gourmet Roasted Ginger Vegetable Stir-Fry Recipe
McCormick Gourmet Roasted Spices
Serve these colorful vegetables as a side dish to an Asian-inspired meal. Or, serve over rice or Chinese noodles for a meatless main dish.
Prep Time: 15 minutes
Cook Time: 15 minutes
Makes 8 servings.
Ingredients
· 1 3/4 cups chicken or vegetable broth, divided
· 1 tablespoon soy sauce
· 1 tablespoon cornstarch
· 1 tablespoon sherry
· 2 teaspoons McCormick Gourmet Collection Roasted Ground Ginger
· 3 tablespoons oil
· 3 cloves garlic, minced
· 4 cups cauliflower florets
· 1 bunch thin asparagus, trimmed and cut diagonally into 2-inch pieces (2 cups)
· 1 red bell pepper, cut into thin strips
· 4 ounces snow peas, trimmed
· 4 green onions, cut diagonally into 1/2-inch pieces (1 cup)
· McCormick Gourmet Collection Sesame Seed, Toasted (optional)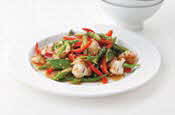 Directions
1. Mix 1 1/2 cups of the broth, soy sauce, cornstarch, sherry and ginger in medium bowl until smooth. Set aside.

2. Heat oil in large deep skillet or wok on medium-high heat. Add garlic and cauliflower; stir fry 1 minute. Add remaining 1/4 cup broth; cover and cook 5 to 7 minutes or until cauliflower is tender-crisp, stirring occasionally. Add asparagus, bell pepper, snow peas and green onions; stir fry 3 to 4 minutes or until tender-crisp.

3. Stir broth mixture. Add to skillet; stirring constantly, bring to boil on medium heat and boil 1 minute. Sprinkle with toasted sesame seed, if desired.

Nutrition Information Per Serving:
93 Calories, Fat 5g, Protein 3g, Carbohydrates 9g, Cholesterol 1mg, Sodium 344mg, Fiber 3g