Cayenne & Tart Cherry
Recipe below
Red hot, sour and sweet convergence. This unexpected matrimony of superfoods delivers a wonderfully complex hit of flavor as the sour, up-front tang of tart cherry surrenders to the slow building heat of cayenne pepper.

The unmistakable warm intensity of cayenne, or ground red pepper, comes from the heat component in chile peppers called capsaicin. This bright red spice is remarkably high in antioxidants.
When combined with other ingredients, cayenne has a congenial way of lifting other flavors to really make them pop. Emerging as a new superfruit, tart cherries have a distinctive taste and are an antioxidant powerhouse. Though their summer growing season is short, these ruby gems can be enjoyed year-round in dried, frozen, canned and juice varieties.

Discover the enticing flavor of this antioxidant-rich combination in Spicy Pulled Pork in Tart Cherry Sauce with Vanilla Slaw. Or, try this duo in a hearty vegetarian chili, corn and Asiago muffins or Chinese steamed buns. For dessert, combine the two in a cherry brioche pudding with bourbon-cayenne sauce or spiced dark chocolate and cherry pot de créme.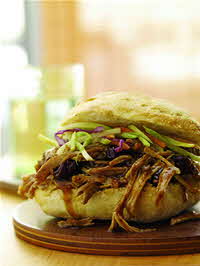 "I like using spices, like cayenne, in desserts. The heat of cayenne helps to cut some of the natural sweetness of tart cherries and balances the overall flavor of a dish."
Nicole Plue, Pastry Chef | REDD, Yountville
RECIPE
SPICY PULLED PORK IN TART CHERRY SAUCE WITH VANILLA SLAW
The pairing of two antioxidant rich ingredients – cayenne and tart cherries – is a perfect match in slow cooked pulled pork. The cayenne brings an underlying heat and the dried cherries add a sweet and sour balance.
Prep Time: 15 minutes
Cook Time: 8 hours on LOW or 4 hours on HIGH
Makes 10 servings.

Ingredients
• 3 pounds boneless pork shoulder roast, trimmed
• 1/2 cup coarsely chopped dried tart cherries
• 1 medium onion, cut into thin wedges
• 1/2 cup ketchup
• 1/3 cup cider vinegar
• 1/4 cup packed brown sugar
• 2 tablespoons instant espresso powder
• 1 1/2 teaspoons McCormick Gourmet Collection™ Crushed Red Pepper
OR 1 teaspoon McCormick Gourmet Collection Ground Cayenne Red Pepper
• 1 teaspoon McCormick Gourmet Collection Saigon Cinnamon
• 1 teaspoon McCormick Gourmet Collection Garlic Powder
• 1 teaspoon McCormick Gourmet Collection Sicilian Sea Salt
• 10 sandwich rolls (optional)
• Vanilla Slaw (recipe follows)

Directions
1. Place pork, cherries and onion in slow cooker. Mix remaining ingredients except rolls and Vanilla Slaw in medium bowl until blended. Pour over pork. Cover.

2. Cook 8 hours on LOW or 4 hours on HIGH. Remove pork from slow cooker.

3. Shred pork, using 2 forks. Return pork to slow cooker. Mix and heat with sauce before serving. Serve on sandwich rolls with Vanilla Slaw, if desired.

Slow Cooker Tip: For best results, do not remove cover during cooking.

VANILLA SLAW:
• 3 tablespoons olive oil
• 1 tablespoon cider vinegar
• 1 teaspoon Dijon mustard
• 1/2 teaspoon McCormick Pure Vanilla Extract
• 1/4 teaspoon McCormick Gourmet Collection Sicilian Sea Salt
Mix in large bowl until well blended. Add 1 package (12 ounces) broccoli coleslaw; toss to coat well. Cover. Refrigerate until ready to serve.
Nutrition
Nutritional Information Per One Serving of the Pulled Pork:
330 Calories, Fat 18g, Protein 26g, Carbohydrates 16g, Cholesterol 100mg, Sodium 399mg, Fiber 1g
Nutritional Information Per One Serving of the Vanilla Slaw (about 1/3 cup):
44 Calories, Fat 4g, Protein 0g, Carbohydrates 2g, Cholesterol 0mg, Sodium 78mg, Fiber 1g