Toasted Sesame & Root Beer
Recipe below
An iconic beverage and versatile seed inspire innovation. A classic American soda takes a tantalizing turn when paired with the bold nuttiness of toasted sesame seed. Rediscovering root beer beyond the traditional frosty mug, chefs are inspired by the complexity of the creamy vanilla, wintergreen and black licorice notes in root beer as a cooking ingredient – venturing into new landscapes of savory and sweet.
The importance of sesame as a flavor spans the globe – traveling through Asia, the Middle East, Africa and the American South. Toasting sesame seed brings out an alluring aroma, deeper flavor, warm golden color and textural crunch. These nutty seeds are a tempting match for the full-bodied, microbrewed root beers that are experiencing a contemporary renaissance.

Together, these ingredients create endless reinterpretations like Sesame Root Beer Braised Short Ribs and Sweet Potatoes (opposite). The layered flavors of root beer also offer a novel take on barbecue sauce or a root vegetable purée, finished with toasted sesame seed. On the sweeter side, try this duo in a sesame-coated chocolate bon bon filled with root beer ganache.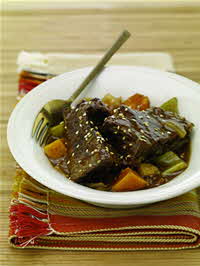 "Root beer and toasted sesame create a sweet, nutty combination that is great for meats, sauces and glazes, and of course, dessert."
Kenneth Oringer, Executive Chef | Clio, Boston
RECIPE
SESAME ROOT BEER BRAISED SHORT RIBS & SWEET POTATOES
Chefs are serving up comfort food with a modern flair. Root beer adds sweet and spicy flavors to the braising liquid for short ribs and toasted sesame seed finishes the dish with delicate crunch and nuttiness.
Prep Time: 20 minutes
Cook Time: 3 1/4 hours
Makes 8 servings.

Ingredients
• 3 pounds boneless beef short ribs, cut into serving-size pieces
• 1/4 cup flour
• 2 tablespoons oil, divided
• 6 cloves garlic, peeled
• 2 ribs celery, cut into 1½-inch pieces (about 1 cup)
• 2 medium onions, cut into 1½-inch chunks (about 1½ cups)
• 2 medium parsnips, cut into 1½-inch pieces (about 1½ cups)
• 1 bottle (12 ounces) micro-brewed root beer
• 1/2 cup water
• 2 beef bouillon cubes
• 2 tablespoons tomato paste
• 2 tablespoons balsamic vinegar
• 2 McCormick Gourmet Collection™ Bay Leaves
• 3 teaspoons McCormick Gourmet Collection Toasted Sesame Seed
OR 3 teaspoons McCormick Gourmet Collection Sesame Seed, toasted, divided
• 1 teaspoon McCormick Gourmet Collection Sicilian Sea Salt
• 1 teaspoon McCormick Gourmet Collection Coarse Grind Black Pepper
• 2 pounds sweet potatoes, peeled and cut into 1½-inch chunks

Directions
1. Coat short ribs with flour. Heat 1 tablespoon of the oil in 5-quart Dutch oven or ovenproof saucepot on medium-high heat. Add 1/2 of the short ribs; cook 5 to 10 minutes or until browned on all sides. Remove from Dutch oven. Repeat with remaining short ribs.

2. Heat remaining 1 tablespoon oil in Dutch oven on medium heat. Add garlic, celery, onions and parsnips; cook and stir 3 minutes or until lightly browned. Add root beer, water, bouillon cubes, tomato paste, vinegar, bay leaves, 2 teaspoons of the sesame seed, sea salt and black pepper; bring to boil, stirring to loosen browned bits in bottom of Dutch oven. Return short ribs to Dutch oven, stirring to partially cover short ribs in liquid. Cover.

3. Braise in preheated 300°F oven 2 hours. Add sweet potatoes; cover and braise 1 hour longer or until short ribs and sweet potatoes are tender. Skim fat from liquid. Divide short ribs and vegetables among serving bowls. Top each with sauce. Sprinkle short ribs evenly with remaining 1 teaspoon sesame seed.

Nutritional Information Per Serving: 652 Calories, Fat 48g, Protein 27g, Carbohydrates 28g, Cholesterol 105mg, Sodium 492mg, Fiber 4g