Mint & Quinoa Flavor Pairing
Recipe below
Delights and nourishes the soul. Nutty, whole-grain quinoa is taken to new heights when paired with the exhilarating, cool taste of mint. On the verge of widespread recognition, this hearty, satisfying and nutritious grain has found the perfect partner with fragrant mint.

Universally prized for its vibrant and refreshing properties, mint enlivens every food it touches. Here, this bright green herb elevates the earthy taste of a rising super grain.
Quinoa is gluten-free, high in fiber and richer in protein than most other grains. Technically a seed, it is available in varieties like pearl, brown and yellow, as well as ground into a specialty flour.

Experience this pairing in Rack of Lamb with Quinoa-Hazelnut Crust and Mint Pesto or in mini quinoa flour pancakes topped with mint-marinated smoked salmon and crème fraiche. These flavors stand out in a warm quinoa salad with mint and roasted tomato, or alongside a Moroccan-inspired stew. For dessert, try a mint granita with crispy fried quinoa sprinkles and lemon-scented Greek yogurt.
"I think about how the clean, nutty flavor of quinoa would work with refreshing mint. Perhaps a chilled salad with pickled vegetables and a mint vinaigrette or a ceviche with cucumber, puffed quinoa and mint oil."
Graham Elliot Bowles, Chef/Owner | Graham Elliot, Chicago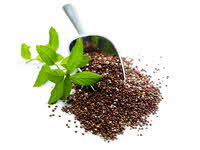 RECIPE


RACK OF LAMB WITH QUINOA-HAZELNUT CRUST AND MINT PESTO
Multi-colored quinoa and hazelnuts are used to create a stunning crust for lamb. The earthy, nutty flavor is complemented by a cooling mint pesto and yogurt sauce.
Prep Time: 20 minutes
Cook Time: 40 minutes
Makes 6 servings.

Ingredients
• 2 tablespoons red quinoa
• 2 tablespoons white (pearl) quinoa
• 1/2 cup water
• 1/4 cup plus 1 tablespoon finely chopped toasted hazelnuts, divided
• 2 racks of lamb (about 1 pound each)
• 3 tablespoons olive oil, divided
• 1 teaspoon McCormick® Gourmet Collection™ Sicilian Sea Salt
• 1/4 teaspoon McCormick® Gourmet Collection™ Coarse Grind Black Pepper
• 2 teaspoons lemon juice
• 2 tablespoons McCormick® Gourmet Collection™ Mint Flakes
• 1/4 teaspoon McCormick® Gourmet Collection™ Garlic Salt
• 1 cup plain Greek-style yogurt

Directions
1. Rinse quinoas; drain well. Bring quinoas and water to boil in small saucepan on medium-high heat. Reduce heat to low; cover and simmer 13 minutes or until liquid is absorbed, stirring occasionally. Spread cooked quinoa on baking sheet to cool. Stir in 1/4 cup of the hazelnuts. Set aside.

2. Brush racks of lamb lightly with 1 teaspoon of the oil. Sprinkle with sea salt and pepper. Coat lamb with quinoa mixture, pressing firmly to adhere. Place lamb on roasting rack in foil-lined shallow roasting pan. Drizzle with 2 teaspoons of the remaining oil.

3. Roast lamb in preheated 450°F oven 20 to 25 minutes or until desired doneness.

4. Meanwhile, mix remaining 2 tablespoons oil, remaining 1 tablespoon hazelnuts, lemon juice, mint flakes and garlic salt in small bowl until well blended. Stir 1 teaspoon of the pesto into yogurt. To serve, carve lamb into chops. Drizzle with remaining pesto. Serve with Yogurt Sauce.
Nutritional Information Per Serving: 418 Calories, Fat 30g, Protein 28g, Carbohydrates 9g, Cholesterol 88mg, Sodium 437mg, Fiber 2g