Gourmet Roasted Cumin Crusted Grilled Steaks with Tomato Relish Recipe
Roasted Spices
For maximum flavor, refrigerate steaks for 2 hours after rubbing with spice mixture. Tomato Relish can also be prepared earlier in the day and refrigerated until ready to serve.
Prep Time: 10 minutes
Marinate Time: 30 minutes
Cook Time: 16 minutes
Makes 4 servings.
Ingredients
• 1 tablespoon packed dark brown sugar
• 1 tablespoon McCormick Gourmet Collection Roasted Ground Cumin
• 1 teaspoon McCormick Gourmet Collection Oregano Leaves, Mediterranean
• 1 teaspoon McCormick Gourmet Collection Sicilian Sea Salt
• 1/2 teaspoon McCormick Gourmet Collection Garlic Powder
• 1/4 teaspoon McCormick Gourmet Collection Red Pepper, Ground Cayenne
• 1 pound boneless beef sirloin or New York strip steaks (about 3/4-inch thick)
• 1 pint assorted colors cherry tomatoes, quartered (about 2 cups)
• 1/4 cup chopped red onion
• 1 tablespoon olive oil
• 1 tablespoon balsamic vinegar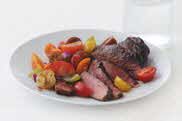 Directions
1. Mix sugar, cumin, oregano, sea salt, garlic powder and red pepper in small bowl until well blended. Reserve 1 tablespoon of the spice mixture. Brush steaks lightly with oil. Rub remaining spice mixture on both sides of steaks. Refrigerate 30 minutes or longer for extra flavor.

2. Meanwhile, mix tomatoes, onion, oil, vinegar and reserved spice mixture in medium bowl. Cover. Refrigerate until ready to serve.

3. Grill steaks over medium-high heat 6 to 8 minutes per side or until desired doneness. Slice steak and serve with Tomato Relish.
Nutrition Information Per Serving:
267 Calories, Fat 15g, Protein 24g, Carbohydrates 9g, Cholesterol 57mg, Sodium 560mg, Fiber 2g