Flavor Pairing: Dill & Avocado Oil
Recipe below
Fresh and light with an air of simple sophistication. The mild, lush silkiness of new-to-the-scene avocado oil finds an elegant partner in clean, minty dill. This delicate pairing reflects the healthy goodness that comes from pure, natural ingredients.

Once considered a symbol of vitality in Roman times, feathery dill brings a vibrant green color and a refreshing taste to avocado oil.
Pressed from the muted lime-colored pulp surrounding the fruit's seed, this oil has won over health experts and chefs alike. It has a high content of monounsaturated fats, is very versatile and, unlike olive oil, can be used for high-temperature cooking.

Experience this pairing in Grilled Scallops and Persimmon with Dill-infused Avocado Oil or as a light finishing sauce for fish crudo or lobster salad. For a fresh taste, top roasted vegetables, like butternut squash, parsnips and mushrooms, with a drizzle of avocado oil and a sprinkling of dill.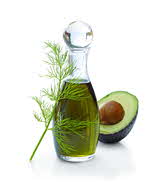 "Dill is the Jackie O. of herbs…retro, classic and elegant. Avocado oil is similar, yet was once thought of as exotic. Together this combination screams fresh and light, sophisticated and classy."
Richard Blais, Owner | Trail Blais, and Creative Director | Flip, Atlanta
RECIPE
GRILLED SCALLOPS AND PERSIMMON WITH DILL-INFUSED AVOCADO OIL
Grilled sea scallops, papaya and persimmon are finished with a tropical-flavored avocado oil accented with dill, coriander and lime.
Prep Time: 15 minutes
Refrigerate: 30 minutes
Cook Time: 10 minutes
Makes 4 servings.
Ingredients
• 1/4 cup avocado oil
• 1/2 teaspoon McCormick Gourmet Collection Dill Weed
• 1 tablespoon lime juice
• 1 tablespoon agave nectar or honey
• 1 teaspoon McCormick Gourmet Collection™ Coriander Seed, coarsely crushed
• 3/4 teaspoon McCormick Gourmet Collection Sicilian Sea Salt
• 1/2 teaspoon McCormick Gourmet Collection Coarse Grind Black Pepper
• 1/4 teaspoon McCormick Gourmet Collection Ground Ginger
• 1 pound large sea scallops (about 12)
• 1 large papaya, peeled, seeded and cut into 8 (2x1-inch) pieces
• 1 Fuyu persimmon, cut into 8 wedges OR 1 large ripe mango, peeled and cut into 8 (2x1-inch) pieces

Directions
1. Heat oil in small saucepan on medium-low heat. Add dill weed; cook and stir 1 minute or until fragrant. Cool slightly. Stir in lime juice, agave nectar, coriander seed, sea salt, pepper and ginger until well mixed. Reserve 3 tablespoons oil mixture for serving with the skewers.

2. Drizzle remaining oil mixture over scallops and fruit in large bowl. Toss gently to coat well. Cover. Refrigerate 30 minutes. Alternately thread 3 scallops and 2 each papaya and persimmon pieces onto each double skewer.

3. Grill over medium heat 8 to 10 minutes or until scallops are opaque and fruit is lightly browned, turning once. Drizzle skewers with reserved oil mixture to serve.

Test Kitchen Tip: If using wooden skewers, soak in water for at least 30 minutes to prevent burning.

Nutritional Information Per Serving: 338 Calories, Fat 18g, Protein 19g, Carbohydrates 25g, Cholesterol 36mg, Sodium 561mg, Fiber 4g