DARK RICE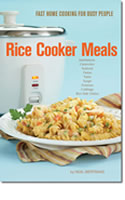 Rice Cooker Meals
by Neal Bertrand
Coconut, coke, raisins and nuts: Not what you'd expect for a rice side dish. This one will surprise you!
Contributed by Elsie H. Castille, FCE Volunteer - Breaux Bridge, La

Ingredients
• 2 rice-cooker cups (12 oz.) uncooked medium-grain white rice
• 1 cup (8 oz.) water
• 1 cup (8 oz.) cola (Coke or Pepsi)
• 1 tsp. olive oil
• 1/4 tsp. salt, or to taste
• 3/4 cup golden raisins
• 2/3 cup sweet shredded coconut flakes
• 1/2 cup chopped pecans, or nuts of your choice
• 1/2 cup chopped green onions

Directions
Place the rice, water, cola, oil and salt in rice cooker.

Stir, cover and press down COOK switch.

At the midpoint of cooking process, 10 minutes, quickly toss in the raisins and cover.

Once meal is cooked, and the COOK switch pops up to WARM mode, add coconut, nuts and green onion and mix well.

Cover and let it stand 10 minutes before serving.

This dish is excellent to accompany pork or chicken.
Rice Cooker: Cooked for 21 minutes and made up to the 4-cup level.