CRANBERRY PECAN RICE PILAF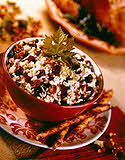 "Rice to the Rescue!" Recipe Contest Winner - Debbie Darke
Yield: Makes 4 servings.

Ingredients
• 2 tablespoons butter or margarine
• 1 cup uncooked rice
• 1 14 1/2-ounce can chicken broth
• 1 cup grated Parmesan cheese
• 1/2 cup dried cranberries
• 1/2 cup chopped pecans, toasted*
• 1/4 cup sliced green onions
• Salt and ground black pepper, to taste

Directions
Melt butter in 2-quart saucepan over medium heat. Add rice; cook and stir 2 to 3 minutes. Add broth and heat to boiling; stir once or twice. Reduce heat; cover and simmer 15 minutes or until liquid is absorbed.

Remove from heat. Stir in cheese, cranberries, pecans and onions. Season to taste with salt and pepper.

* To toast pecans, spread nuts on small baking sheet. Bake at 350 degrees 5 to 8 minutes, or until golden brown, stirring frequently.

Nutrition Facts
Calories 314
Total Fat 15g
Cholesterol 21mg
Sodium 577mg
Total Carbohydrate 35g
Dietary Fiber 2g
Protein 9g

USA Rice Federation (www.usarice.com)