CARAMELIZED ONION, SMOKED GOUDA AND PECAN RICE TART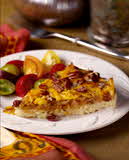 "Rice to the Rescue!" Recipe Contest Winner - Anna Ginsberg
Yield: Makes 6 servings.

Ingredients
• 2 tablespoons butter
• 4 cups sliced sweet mild onion (about 3 large)
• 3 cups cooked rice
• 3/4 cup Parmesan cheese
• 3 eggs
• 2 cups shredded smoked Gouda cheese
• 3/4 cup chopped pecans

Directions
Preheat oven to 400 degrees.

Heat butter in large skillet over medium heat. Add onion and saute 8 to 10 minutes, stirring periodically until browned and caramelized.

Meanwhile, combine rice, Parmesan and eggs in a medium bowl.

Press mixture into bottom of a 10-inch removable bottom pan.

Distribute onion over crust and top with smoked Gouda and pecans.

Bake in preheated oven 12 to 15 minutes, until pecans are toasted.

Tip: To hasten caramelizing, add 2 tablespoons brown sugar to onions just as they become translucent.
Nutrition Facts
Calories 240
Total Fat 15g 23%
Saturated Fat 31%
Polyunsaturated Fat 6%
Monounsaturated Fat 19%
Cholesterol 76mg 25%
Sodium 290mg 12%
Potassium 4%
Total Carbohydrate 17g 6%
Dietary Fiber 2g 7%
Protein 10g

USA Rice Federation (www.usarice.com)