Creamy Red Beans And Rice With Caramelized Onions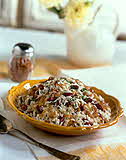 "Rice to the Rescue!" Recipe Contest Winner - Gerry Holcomb
Yield: Makes 6 servings.

Ingredients
• 2 tablespoons butter
• 1 large onion, sliced
• 3 cups hot cooked rice (cooked in chicken broth)
• 1 16-ounce can red kidney beans, drained
• 1/2 cup sour cream
• 1/2 cup grated Asiago cheese
• 1/4 teaspoon freshly ground black pepper

Directions
Melt butter in large skillet over medium heat.

Add onions; cook until onions begin to brown (about 8 minutes).

Add rice, beans, sour cream, cheese and black pepper.

Stir until well blended and cheese is melted.

Nutrition Facts
Calories 291
Total Fat 11g
Cholesterol 26mg
Sodium 701mg
Total Carbohydrate 37g
Dietary Fiber 6g
Protein 11g

USA Rice Federation (www.usarice.com)