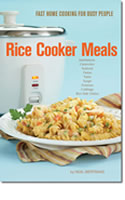 by Neal Bertrand
(Click Book Cover to visit the Rice Cooker website for more info or to Buy the book!)

Rice Cooker Meals: Fast Home Cooking for Busy People contains 60 quick and easy meals you can make in a rice cooker, most in 30 minutes or less. Enjoy delicious, multicultural recipes that are less expensive and healthier than fast food. Includes Mexican, Italian, Tex-Mex and Cajun recipes! And one-pot cooking means less mess to clean up!
You'll see how easy it is to cook jambalayas, seafood dishes, pastas, "casseroles", soups, rice side dishes, and various vegetable recipes including potatoes, cabbage, and sweet potatoes. The cookbook also has two indexes so the recipes are easier to find: indexed by chapter and indexed by alphabetical order.
It includes short articles about time-saving tips on food preparation, how a rice cooker knows when the food is cooked, how to teach children to safely cook with a rice cooker, how to brown meat in a rice cooker, plus many more.

This cookbook is ideal for:
• Busy people on the go
• Off campus or college dorm rooms
• Tailgating parties before the big game
• Empty-nesters - makes it easy to cook for two
• Campers and RVers - good food while on the road
• Parties, church socials and get-togethers of all kinds
• Small apartments - don't have to heat up the whole place

In short, Rice Cooker Meals offers a time-saving alternative to conventional cooking. With this cookbook you can prepare a traditional home-cooked meal - all in one rice cooker. If you want to cook a worry-free, quick, flavorful meal that doesn't heat up your whole kitchen or use all your pots. 'Rice Cooker Meals: Fast Home Cooking for Busy People' is for you!