CHILI WALNUT EGG PUFF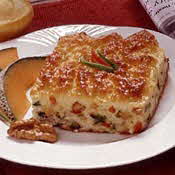 This light egg dish is great for a casual brunch. Because it uses egg substitute and light cheese, it contains very little cholesterol.
Prep Time: 15 min.
Servings: 4

Ingredients:
• 1/4 cups egg substitute
• 1/4 cup flour
• 1/2 tsp baking powder
• 1 cup fat-free cottage cheese
• 1/2 cup grated reduced-fat cheddar cheese
• 1/2 cup chopped California walnuts, toasted if desired
• 1/4 cup diced mild green chilies

Directions:
1. Preheat oven to 350 degrees Fahrenheit.
Coat 8-inch square baking dish with nonstick cooking spray.

2. Pour egg substitute into large bowl.
Sift combined flour and baking powder over egg. Beat until completely blended.
Beat in cottage and cheddar cheese, walnuts and chilies.

3. Pour into prepared pan.
Bake in preheated oven about 35 minutes until puffy and set, and knife inserted slightly off-center comes out clean.
Recipe courtesy of California Walnut Board