ARTICHOKE BENEDICT
Makes 4 servings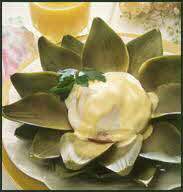 INGREDIENTS
• 4 medium California artichokes
• 4 slices (1/4-inch thick) Canadian bacon
• 4 eggs
• Hollandaise Sauce (recipe follows)

DIRECTIONS
Prepare and cook artichokes as directed (see Basic Preparation)

Brown Canadian bacon slices in skillet.

Poach eggs in boiling, salted water.

Spread leaves of artichoke open like flower petals.

Remove center petals and fuzzy centers from artichokes and discard.

Place bacon slices into artichoke centers, covering bottom, and top with poached eggs.

Spoon on Hollandaise Sauce and serve immediately.

HOLLANDAISE SAUCE
Makes about 3/4 cup
• 3 egg yolks
• 1/4 cup water
• 2 tablespoons lemon juice
• 1/2 cup firm cold butter, cut into eighths
• 1/8 teaspoon paprika
• dash ground red pepper
In small saucepan, heat together egg yolks, water and lemon juice.
Cook over very low heat, stirring constantly, until yolk mixture bubbles at edges.
Stir in butter, 1 piece at a time, until melted and sauce is thickened.
Stir paprika, red pepper and salt to taste.
Remove from heat.
Serve warm.
Cover and chill if not used immediately.
California Artichoke Advisory Board www.artichokes.org