COOKING CHANNEL HIGHLIGHTS
September 25-26, 2013 Episodes
KELSEY'S ESSENTIALS
"My Trip to San Fran"
Wednesday, September 25
8:00pm ET/ 5:00pm ET
Kelsey remembers her trip to San Francisco, where some are whipping up classic Spanish paella with noodles instead of rice. The new trend inspires Kelsey's version of Fideos with Shrimp and Chorizo with a Smoky Paprika Aioli. She can't talk about San Francisco without making a classic buttery and fluffy pilaf, before finishing her San Fran feast with Green Goddess Crab Tapas.

NOT MY MAMA'S MEALS
"Sweet as Honey"
Wednesday, September 25
9:00pm ET/ 6:00pm PT
Bobby Deen is heading to a gorgeous New York City rooftop and you'll never guess what he's doing there...harvesting honey with special guest Andrew Cote. After he secures the amber deliciousness, he's heading into the kitchen with his pal, Colette Burnett to whip up some tasty creations, making his Grilled Chicken with Flaming Rum Sauce and Honey Pineapple Nut Bars. Both creations are as Sweet as Honey!

CHUCK'S EAT THE STREET
"The Last Little Italy"
Thursday, September 26th
10:00pm ET/ 7:00pm PT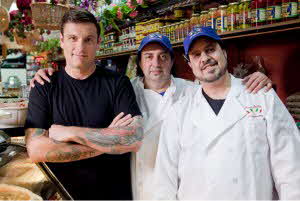 Sure, you know the Bronx has a zoo, the Botanical Garden, and Yankee Stadium. But did you also know it is home to New York City's biggest Little Italy? Here, on Arthur Avenue, Chuck gets his fill of Italian home cooking. Starting at the legendary Mario's, known from a famous scene in The Godfather, Chuck samples Joseph Migliucci's octopus salad. Next up, at Zero Otto Nove, Chef Roberto Paciullo makes pasta al forno, the homey baked pasta dish just like mamma used to make. Chuck then heads to Casa Della Mozzarella where Orazio Carciotto turns plain old milk into amazing fresh mozzarella. And at Vincent's Meat Market, Peter De Luca and Chuck make lamb sausage that Peter's Aunt Lillian prepares with peppers and fresh bread to make a delicious sandwich.