FOOD NETWORK STAR
Season Premiere Episode June 1, 2014
'Food Network Star'
Season Premiere Episode
Sunday, June 1st at 9pm ET/PT
Episode Title:
"Hollywood Calling!"
Episode Description:
In the season premiere, the contestants are welcomed to Los Angeles for their Star-making journey by Alton, Giada and Bobby, who invite the cast to their own red carpet premiere party that very night at a Hollywood studio backlot. Each finalist must present themselves to a select group of tastemakers, including E! personality Ross Mathews, and prepare their most impressive party bite for the challenge judges Alton, Giada, Bobby and Food Network executives Bob Tuschman and Susie Fogelson.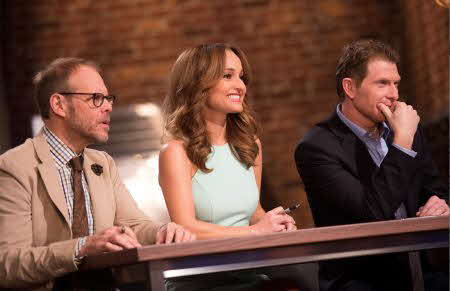 About Food Network Star
Food Network's long-running competition series 'Food Network Star' is back for a 10th season, with culinary icons Alton Brown, Giada De Laurentiis and Bobby Flay leading the charge to discover the next promising face in food television. The twelve new contenders are put to the test in a season filled with unique competitions challenging their kitchen and on-camera chops, to find out who has the talent and charisma to follow in Alton, Giada and Bobby's footsteps and helm their own show. Exclusive web series Star Salvation also returns, giving one eliminated contestant the opportunity to rejoin the on-air competition, which culminates in an audience vote to determine who wins the ultimate prize - their own show on Food Network. Shot in Los Angeles, Las Vegas and New York, Food Network Star season ten kicks off with a one-hour premiere on Sunday, June 1st at 9pm ET/PT,and the winner will be named in the season finale on Sunday, August 10th at 9pm ET/PT.