COOKING CHANNEL HIGHLIGHTS
September 10-13, 2013 Episodes
MAN FIRE FOOD
Episode Title:
"Fiery Foods in Jamaica"
Airing Tuesday, September 10th
8:00 pm ET | 5:00 pm PT
Roger's search for fire and food takes him to Jamaica where he makes a beeline for Scotchie's Too, a restaurant famous for cooking jerk pork and jerk chicken over logs of pimento and sweetwood. Roger also meets up with local fisherman Dennis Abrahams at Alligator Pond, a beach where boats pull in after a morning of fishing to sell their goods. Dennis and Roger start a campfire right on the beach and grill the catch of the day.

KELSEY'S ESSENTIALS
Episode Title:
"Straight out of Tokyo"
Airing Wednesday, September 11th
8:00 pm ET | 5:00 pm PT
Kelsey discovers the latest trend in Japanese cuisine with a visit to Yuji Haraguchi to learn his unique approach to ramen. Yuji backs all trends and uses "mazemaen," a dry ramen and no broth. Kelsey also visits Mimi and Coco who have reinvented a Japanese savory favorite by making teriyaki balls with an American twist. She then heads back to her kitchen inspired and makes a Roasted Shrimp, Corn and Bacon Ramen and a mouthwatering Grilled Hamachi Collar with a Ponzu Dipping Sauce.

NOT MY MAMA'S MEALS
Episode Title:
"Philly on My Mind"
Airing Wednesday, September 11th
9:00 pm ET | 6:00 pm PT
Bobby Deen has Philly on his mind! He's going to figure out a way to make anti-heart attack Philly cheese steaks. He's visiting a rooftop hydroponic garden to pick up some fresh produce for his Cheese Steak Lettuce Cups and Roasted Zucchini Skins. Then, Philly's Cheesesteak master, Tony Luke, swings by to see if his cheesesteaks make the cut!

CHUCK'S EAT THE STREET
Episode Title:
"DC's Diverse Cuisine"
Airing Thursday, September 12th
10:00 pm ET | 7:00 pm PT
People from nearly every country make their home in Washington D.C., and they don't keep their food traditions locked inside the gates of the embassies. A mile past the White House is an old neighborhood that's become the new capital of the Washington DC food scene- 14th Street Northwest. At Estadio, Chuck learns the secret to making the perfect tortilla espanola, a dish that Chef Haidar Karoum went to the far corners of Spain to learn. At The Pig, Chef Robert Cain blends American farm-to-table philosophy with European technique to prepare barbecued pigtails. Chuck continues his exploration at Pearl Dive Oyster Palace where he samples the saltiest oyster around along with the best fried chicken in DC. Finally, Chuck stops by Andy Shallal's Busboys and Poets, a cafe named for DC's most famous of busboys, poet Langston Hughes.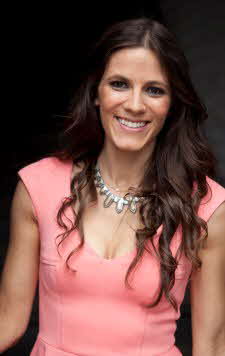 FOOD FANATICS WITH EDEN GRINSHPAN
SERIES PREMIERE:
"Lethal, Kamikaze, Beer - Oh My!"
Airing Friday, September 13th
10:30PM ET | 7:30PM ET
Eden gets primal in Kansas City with the rapid-fire hip-hop artist Mac Lethal, at Jack Stack BBQ, for some crown prime rib. At Craft Pride in Austin, Texas Eden connects with the popular "Bitch Beer" blogger and her bearded friends for chicken and waffles and the best beer in Texas. In Los Angeles Eden joins the guys of the online food show Kamikaze Kitchen and helps deliver a mystery ingredient to unsuspecting chef Chris Ho of Seoul Sausage Company. Finally, Eden and online blogger The Foodie Magician make a scrumptious goat dish disappear at Ducks Eatery in Manhattan.