TRIPPING OUT WITH ALIE & GEORGIA
This Summer Let Cooking Channel's Alie Ward & Georgia Hardstark Help You Create The Perfect Cocktail
Series Premiere
on Cooking Channel
Friday, June 21st
at 10:30pm ET | 7:30pm PT

Series Premiere Episode
"Las Vegas"
Episode Description:
Best friends, and mixologists, Alie Ward and Georgia Hardstark travel to Las Vegas with the goal of "doing Vegas" with pride, dignity and a healthy dose of humor. From super-sized pancakes at a classic diner to bacon martinis at an off-the-strip dive bar Alie and Georgia are "tripping out" in Vegas with hilarious consequences. Along the way, Alie realizes her childhood dream of learning how to walk a tight rope under a circus tent in one of her signature vintage dresses and Georgia shows her competitive side, when the girls use their feminine wiles to bluff the boys at the poker table. Then, they head home to LA, where they throw a party for friends that reflects their Vegas experience. Their menu includes bite-sized pancakes and Reuben sliders, along with a blended cocktail with a Vegas twist.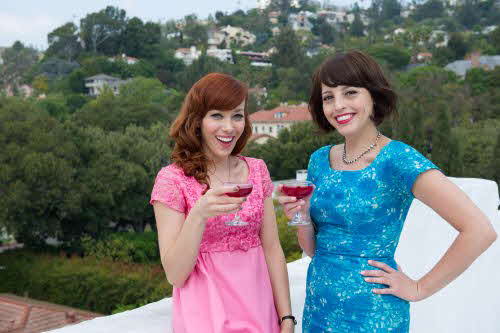 Tripping Out With Alie & Georgia is the ultimate travel-buddy-comedy series. Longtime best friends, Alie Ward and Georgia Hardstark set out across America and give road trip a new meaning as they put a unique and authentic spin on their travel adventure. From hidden gem restaurants to the best place to stay and the wild and crazy happenings along the way, Alie and Georgia explore it all. At the end of each episode, the comedic duo finds clever ways to bring their experience home to share with friends, as well as toast them with a new, cool cocktail.