COOKING CHANNEL SEASON PREMIERS OCTOBER 2013
SEASON TWO PREMIERE:


MY GRANDMOTHER'S RAVIOLI
OCTOBER 2, 2013
Episode Title:
"Care Packages from Clara"
Wednesday, October 2, 2013
8:00PM ET | 5:00PM PT
Philadelphia native and spitfire Clara Corrado, 94, has triplet great-grandsons in the Air Force. The triplets are each stationed far from home, so Clara enlists Mo to help her make some of her best dishes to ship off to the three young military men. The duo whips up Italian Wedding soup and lemon-flavored pizzelle for these delicious care packages sprinkled with a heavy dose of love.

CHUCK'S EAT THE STREET: OCTOBER 3, 2013
Episode Title:
"Motor City Meals"
Thursday, October 3rd at
10:00pm ET | 7:00pm PT
Everybody loves a comeback story, and Detroit has one of the best. The city that gave us Motown and muscle cars also has people with grit, pride, and food traditions they stick with through thick and thin. To find them, Chuck Hughes follows Michigan Avenue to Slow's Bar-B-Q where Chef Brian Perrone pairs smoked St. Louis ribs with potato salad. At Hygrade Deli, Stuart Litt teaches Chuck about the art of meat with a triple-decker roast beef sandwich, aka the "Packing House." At La Pita, Chef Hassan Hamid introduces Chuck to Lebanese home cooking with a dish called Melokhieh, made with Egyptian mallow leaves. Then, he hitches a ride with Brenda Matthews who distributes fresh produce throughout city neighborhoods by way of a mobile market called Peaches and Greens. Finally, Chuck cooks up a Motown classic: a grilled bologna sandwich with a "smosh" of potato chips, with Chef Ariel Millan at Mercury Burger Bar.

SERIES PREMIERE:

BEST IN CHOW - OCTOBER 9, 2013
Host, Cris Nannarone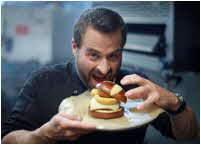 Series Description:
In each episode of Best in Chow, host Cris Nannarone, a veteran road warrior and standup comedian, scours restaurants, diners, food trucks and everything in between, to find the best burger, pizza or taco. It's a quest to find the top three contenders who will ultimately go to battle. Nannarone learns their trade secrets and discovers if their dish has what it takes to win the war.
Premiere Episode: "Burger Wars Hollywood"
Wednesday, October 9, 2013 - 10:30pm ET | 7:30pm PT
Cris Nannarone travels to Hollywood - home to movie stars, swimming pools and 100% grain fed California chuck. His first stop is O!Burger, where head chef Andy Soboil serves his certified organic Classic O!Burger. Next up, Cris meets up with George Ghaby at Rounds Premium Burgers famous for their American Classic Western Burger. Cris makes his last stop at the iconic Carney's to see if there is any truth to their motto. What makes this burger special is its chili topping — a top-secret family recipe. After scouring the Hills, Cris gathers nine local burger enthusiasts to taste them all and decide which burger will be crowned the "Best Burger in Hollywood."