ROAD TRIP WITH G. GARVIN
Season Premiere on Cooking Channel
Road Trip with G. Garvin
Season Premiere Episode
Wednesday, May 21, 2014
9:00PM ET / 6:00PM PT

Episode Title: "Connecticut"
Episode Summary:
G. Garvin heads to Connecticut and starts his road trip at The Corner, a breakfast spot in Milford, Conn., that has all the locals buzzing. The restaurant serves up Southern flavors, like the spiced duck tortilla and French toast stuffed with peaches and cream. The next stop is Mama's Boy Southern Table & Refuge in Norwalk, where they put their own fresh spin on traditional Southern classics, including espresso-rubbed short-ribs. The final stop on his tour is Sandra's Next Generation in New Haven, where they are cooking up authentic Deep South staples right on the east coast!
New Episodes air on Wednesdays at 9:00pm ET / 6:00pm PT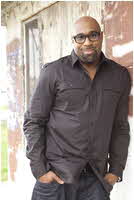 About Road Trip With G. Garvin
Chef Gerry Garvin, aka 'G.', hits the road again for the third season of Road Trip with G. Garvin, premiering Wednesday, May 21st at 9pm ET/6pm PT on Cooking Channel. An acclaimed cookbook author and larger-than-life personality, G. Garvin takes viewers on a culinary expedition through 13 episodes exploring some of the best Southern-inspired cuisine the country has to offer. Whether New York or Michigan, Hawaii or Connecticut, G. discovers the hidden gems behind some of the cities' best eats.
Cooking Channel: www.cookingchanneltv.com