Southern At Heart Season Two Premiere
Damaris Phillips, Food Network Star season nine winner, brings her fresh take on Southern cuisine back for a second season of Southern at Heart.
Her 'Southern food is the food of love' philosophy and quirky sense of humor lead the way as she takes on the traditions of the South with easy, approachable recipes that never compromise on flavor. She adds a contemporary edge to Southern cuisine, combining complex flavors and locally grown ingredients to dress up the traditional fare, all the while keeping the food deliciously simple. In season two, Damaris shares her favorites, showing viewers, friends and family how simple it is to prepare Southern-style meals worthy of the special people in your life.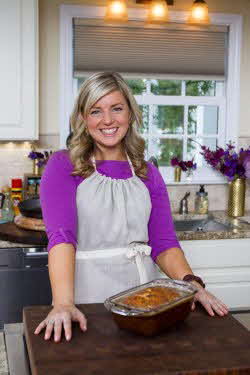 Episode: "Movie Snacking"
Season Premiere Sunday, March 16th At 10am ET/PT
Damaris and one of her best friends, pastry chef Terra Nelson, rent a funky, retro B-movie from their favorite local video store, and decide to whip up the perfect snacks to munch as they watch. On the menu: fancy movie popcorn with Kentucky attitude featuring Hickory and Gorgonzola, easy handmade Cheddar and Wild Morel Sausages, and who-can-resist chocolate, homemade candy bars with chunks of cookies and caramels?! Stop snacking, we're trying to watch the movie!