'THE MIND OF A CHEF'
Season 3 of PBS Series Begins Sept 6
Season 3 of James Beard Award-Winning PBS Series 'The Mind of a Chef' to Feature Two All-New Chefs: Edward Lee and Magnus Nilsson
Narrated by Executive Producer Anthony Bourdain, THE MIND OF A CHEF is that rare and beautiful thing: an intelligent television show about cooking. Season Three of the James Beard Award-winning series from Zero Point Zero Production and presented by WGBH Boston on PBS goes into the minds of chefs Edward Lee and Magnus Nilsson, and will follow these two great culinary figures from the kitchens they call home to their travels around the world in search of ingredients, inspiration, and the perfect meal. (See Video Teaser)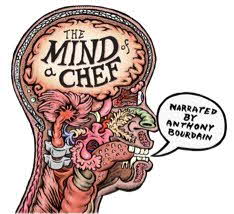 "Season Three of The Mind of a Chef gives us yet another opportunity to push the boundaries of food television even further," said Executive Producer Joe Caterini. "We've got two great minds this year. Ed Lee blends big city and international experience with small town heart and focus in his food. On the other hand, Magnus Nilsson takes us in a completely different direction – we head to the northern reaches of Sweden for a rare all-access look at what it takes to maintain his extremely high standards at what could be the most creative and surprising restaurant on the planet. It's going to be an extremely exciting season."
As in Seasons One and Two, which featured chefs David Chang, Sean Brock, and April Bloomfield, THE MIND OF A CHEF Season Three will continue to combine cooking, travel, history, humor, art, and science into a cinematic-style journey, each episode going deep into inspirations and the creative drive behind the culinary industries greatest minds.
Season Three will be comprised of 16 half-hour episodes featuring on what it truly means to cook, think, create and live in the food-obsessed world that is THE MIND OF A CHEF. Alongside domestic locations like New York, Kentucky, and the Gulf Coast, Season Three will feature far-flung destinations such as France, Argentina, Northern Sweden, and the remote and pristine Faroe Islands. In their respective travels, Ed Lee and Magnus Nilsson meet up with their friends and colleagues such as Ramen master Ivan Orkin, Pok Pok's Andy Ricker, Top Chef Paul Qui, Actress and Comedienne Aisha Tyler, and more.
"This season we are especially privileged to have the two incredible chefs who open their minds and their kitchens to us," said Laurie Donnelly, WGBH Executive Producer of Lifestyle Productions. "Ed Lee brings history and heritage to the table in unexpected new ways, and Magnus Nilsson grants our cameras unprecedented access to film at his world-ranked Fäviken, which will give American viewers a rare dining experience of this remote Swedish gem and the unusual experience he has created there."
Following its first season, THE MIND OF A CHEF was awarded a prestigious James Beard Foundation Award in 2013 for Best Television Program on Location. Season Two is currently nominated for a 2014 James Beard Foundation Award, with the winners to be announced in May 2014. THE MIND OF A CHEF Season Three kicks off brand-new episodes beginning Saturday, September 6, 2014 on PBS (check local listings).
For more information on 'The Mind of a Chef' go to :
www.pbs.org/food/shows/the-mind-of-a-chef/