FARMHOUSE RULES
New Episodes, May 17 & 24
Food Network's Nancy Fuller invites you into her beautiful Hudson Valley farmhouse for great food and good times on Farmhouse Rules. New episodes premiere Saturdays at 10:30am ET/PT.
Upcoming Episodes for May, 2014
Premiering Saturday, May 17th
Episode Title:
"LOL (Lots of Leftovers)"
Episode Description:
David is out of the house for a golf tournament and Nancy has the day to herself. With a busy day tending to her container garden and finishing chores around the house, Nancy uses leftovers to make a delicious meal for David when he gets home. On the menu is Fried Chicken BLT Melt, Tomato Vegetable Rice Soup and Cheesecake Balls.

Premiering Saturday, May 24th
Episode Title:
"Operation: Farm Fresh"
Episode Description:
Nancy hosts a "Welcome Home" party for her nephew and his service buddies who have just gotten back from performing combat rescue operations in Afghanistan. They are hungry for an All-American home-cooked meal, and Nancy is happy to oblige. On the menu is Fried Pork Chops, Braised Kale and Tomatoes, Apple Pie with Cheddar Cheese Crust and Beer Ginger Shandy.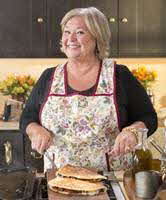 About Farmhouse Rules
The lively and always charming Nancy Fuller welcomes viewers back into her kitchen with new recipes and hometown adventures in an all-new season of Farmhouse Rules premiering Saturday, April 19th at 10:30am ET/PT on Food Network. Honoring her farmer roots, Nancy continues to serve up hearty and wholesome family recipes that satisfy any hungry crowd. From preparing the perfect date night meal for her husband David to serving up a cookout for her grandkids, Nancy is always finding new ways to celebrate food with the ones she loves.