Food Network's New Competition Series 'Kitchen Casino'
Series Premiere April 7, 2014
KITCHEN CASINO
Episode Title: "High Steaks"
Series Premiere, April 7th
At 9:00pm ET / 9:00pm PT
On the Food Network
Episode Description:
Four chefs enter the Kitchen Casino arena prepared to battle for the chance to win the jackpot. In the first round they gamble on the slot machine to determine the parameters for their dish. It proves to be a difficult round when one chef refuses to share a required ingredient. In round two there are high stakes with flank steaks when a chef goes bust after the roulette wheel is just too much to handle. Chips are stacked high in the final round of poker and the chef with the best strategy for incorporating salami, rutabaga, and fruit punch gets a chance to win $30,000 at the winner's wheel.
Guest Judges: Michael Chernow, Kristin Sollenne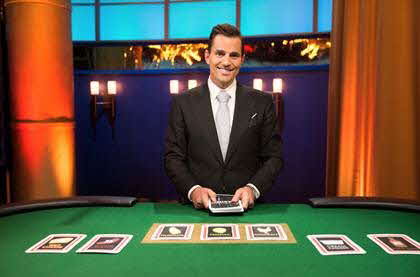 About Kitchen Casino
Food Network's new competition series Kitchen Casino hosted by Bill Rancic brings together four talented chefs in a high-stakes game of chance that requires skill, speed and adaptability. In each episode, four competitors would be wise to keep one eye on the ticking clock while they attempt to out-cook and out-smart their competition during three casino-themed cooking challenges - slots, poker and roulette - for a chance to win the $30,000 jackpot. The chefs must be at the top of their game throughout the three rounds to handle whatever Lady Luck deals them, and they must double-down on their skills or risk being 86'd. Each episode features a panel of rotating judges including Michael Chernow, Madison Cowan, Danyelle Freedman, Gavin Kaysen, Aliya Leekong and Kristin Sollenne.

About Bill Rancic
Bill Rancic originally burst onto the public scene as the first-ever winner of NBC's The Apprentice. Ten years later, this successful entrepreneur wears many hats as a television producer, best-selling author, television personality and restaurateur of the popular restaurant RPM-Italian chain. Rancic is co-executive producer and star with his wife Giuliana Rancic on their reality show, Guiliana & Bill. He also co-hosts the successful nationally syndicated television show, America Now, which recently celebrated its 500th episode and is currently in its fourth season. Rancic is the author of New York Times bestsellers You're Hired: How to Succeed in Business and Life and Beyond The Lemonade Stand. Rancic and wife Giuliana co-authored the best-seller I Do...Now What?, in which the couple share their secrets to everlasting love and understanding.