Damaris Phillips Celebrates
The Kentucky Derby
On the Food Network Series 'Southern At Heart' April 27, 2014
SOUTHERN AT HEART
Themed "Derby Party" Episode
Sunday, April 27 at 10am ET/PT
On the Food Network
Episode Description
Damaris takes on her hometown's grand event with her own version of a proper Derby party, even if you're not in Louisville. With her fancy hat on and ready, she kicks off with her version of a classic Kentucky dish: Hot Browns with Pimento Cheese Mornay. She pulls into the lead with a refreshing Mint Julep, and it's an easy win with her spectacular Chocolate Bourbon Pecan Pie. Damaris gives you all the tips and tricks you will need to make your Derby party a photo finish!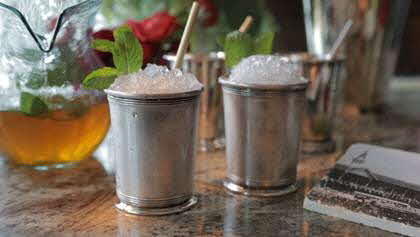 About Southern at Heart
Damaris Phillips, Food Network Star season nine winner, brings her fresh take on Southern cuisine back for a second season of Southern at Heart this spring. Her 'Southern food is the food of love' philosophy and quirky sense of humor lead the way as she takes on the traditions of the South with easy, approachable recipes that never compromise on flavor. She adds a contemporary edge to Southern cuisine, combining complex flavors and locally grown ingredients to dress up the traditional fare, all the while keeping the food deliciously simple. In season two, Damaris shares her favorites, showing viewers, friends and family how simple it is to prepare Southern-style meals worthy of the special people in your life.
Series Episodes Air on Sundays at 10AM ET/PT