PRITIKIN ROASTED PUMPKIN WEDGES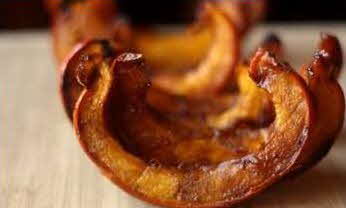 Enjoy richly roasted but very-low-calorie pumpkin wedges (only about 35 calories per serving) with this recipe, perfect for just about anything, from a mid-day snack to a side dish star for Thanksgiving Dinner.
INGREDIENTS
• 1 medium-sized pumpkin (about 5 pounds)
• Generous pinch of cinnamon
• 1 Tablespoon apple juice concentrate (Look for 100% apple juice concentrate in the frozen food section of your market.)

PROCEDURE:
Preheat oven to 400 degrees F.

Peel pumpkin the same way you would peel melons like honeydew. Cut off top and bottom so that pumpkin "stands" steady on your surface. To keep pumpkin from moving, a wet towel underneath is helpful. Then, going from top to bottom with a sharp knife, filet the skin off. Next, cut pumpkin into long wedges. Remove pulp and seeds.

Season your wedges with cinnamon and apple juice concentrate.

On a large nonstick baking sheet, bake for 25 minutes or until browned.

Serve hot.

Recipe and photo courtesy of Chef Anthony and the Pritikin Kitchen www.pritikin.com